Art Boxes
Handgefertigte Mixed-Media Unikate und Kunst für den Art-O-Mat
Handmade mixed-media art and unique pieces for the "Art-O-Mat-Machine"
"Art Boxes" sind die künstlerisch gestaltenten Schachteln für den Art-O-Mat Paderborn.
Der Art-O-Mat Paderborn ist ein gemeinschaftliches Kunstprojekt namhafter Paderborner Künstler, das von Burkhard Lohren im Jahr 2013 initiiert wurde. Der Art-O-Mat ist ein ausgedienter Zigarettenautomat, an der Kunst in Größe von Zigarettenschachteln für nur 5 Euro erworben werden kann. Viele Künstler, darunter Otto Waalkes, haben sich bisher für das Projekt engagiert. Auch hier hat Lohren Papierschnipsel, Fragmente aus alten Zeitschriften und Werbeanzeigen oder Poesiealbumbilder verarbeitet, übermalt, beschmiert, beschrieben. Allen Kunstschachteln fügte der Künstler wiederum Textfragmente bekannter Schlager, Pop- und Rocksongs zu.
"Art Boxes" are the artistically designed boxes for the Art-O-Mat Paderborn.
The Art-O-Mat Paderborn is a joint art project of well-known Paderborn artists, which was initialized by Burkhard Lohren in 2013. The Art-O-Mat is a disused cigarette machine where cigarette pack sized art-boxes can be purchased for only 5 euros. Many artists (including Otto Waalkes) have gotten involved in this project. Here too, Lohren has used processed, painted and smeared paper scraps, fragments from old magazines and advertisements or poetry albums. On the other hand, the artist added text fragments of well-known hits, pop and rock songs to all these boxes.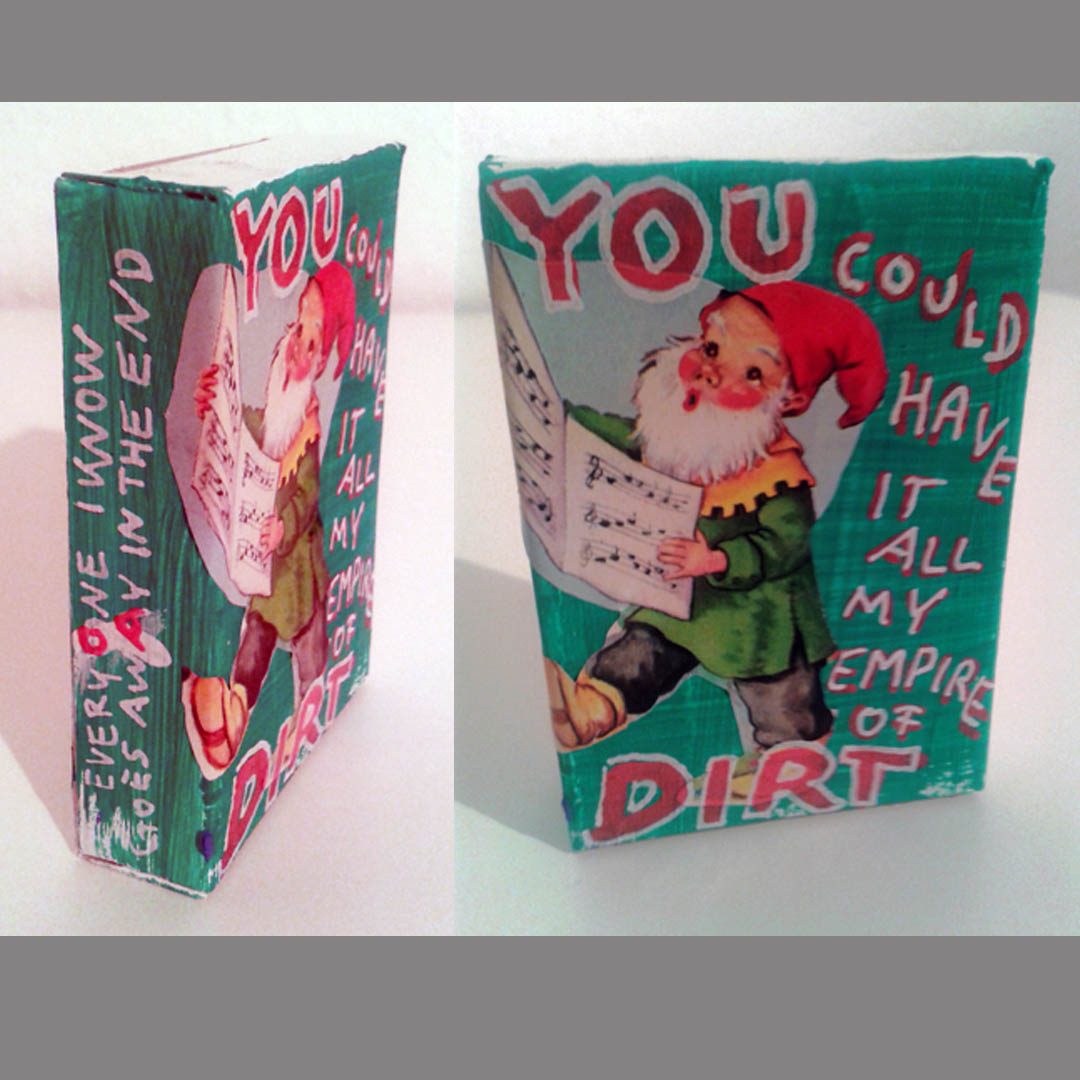 ART BOX – HURT (NINE INCH NAILS)
2013
Mixed-Media auf Papierschachtel
Mixed-Media on paper box
UNIKAT / UNIQUE
6 x 8,5 x 2 cm
ART BOX – GET IT ON (T-REX)
2013
Mixed-Media auf Papierschachtel
Mixed-Media on paper box
UNIKAT / UNIQUE
6 x 8,5 x 2 cm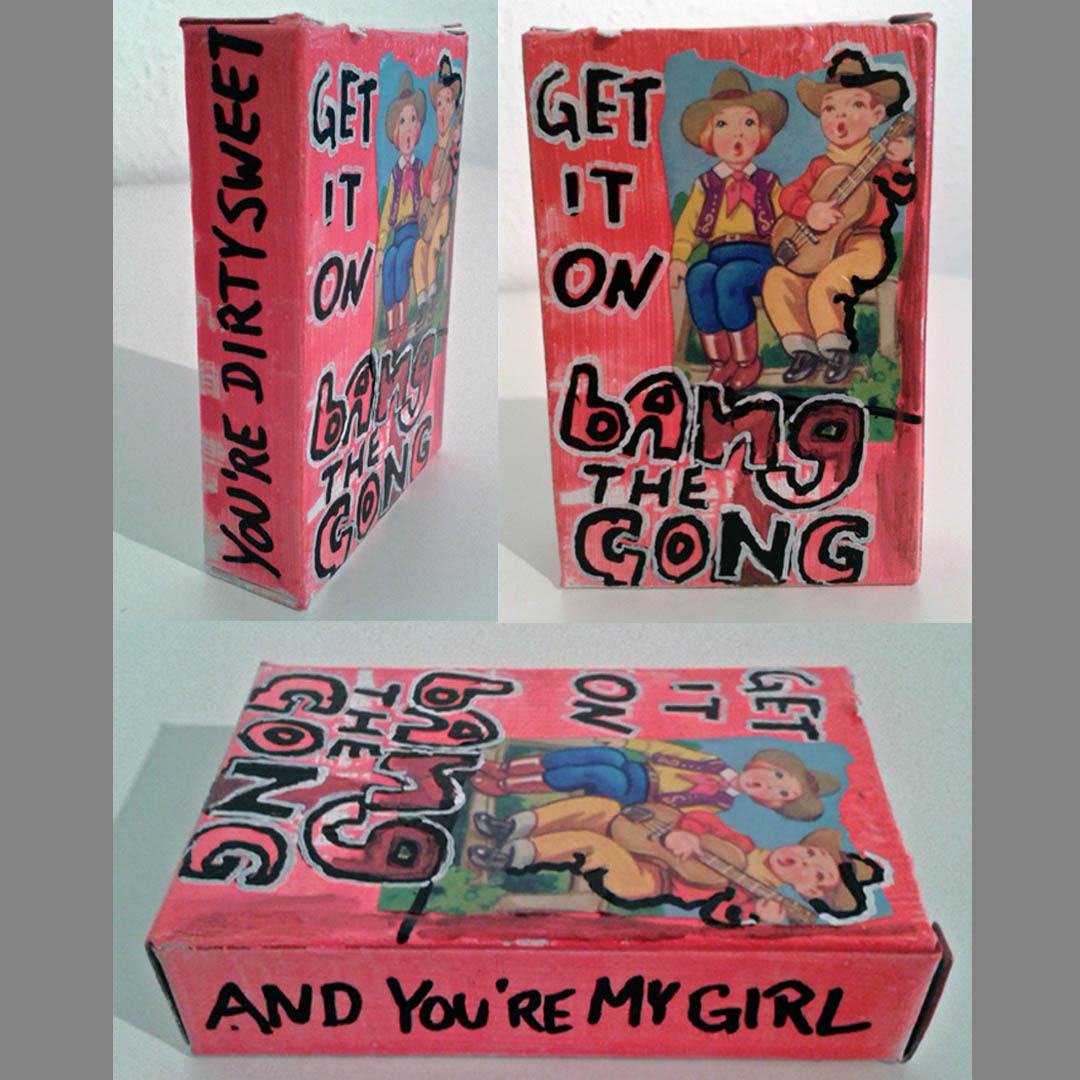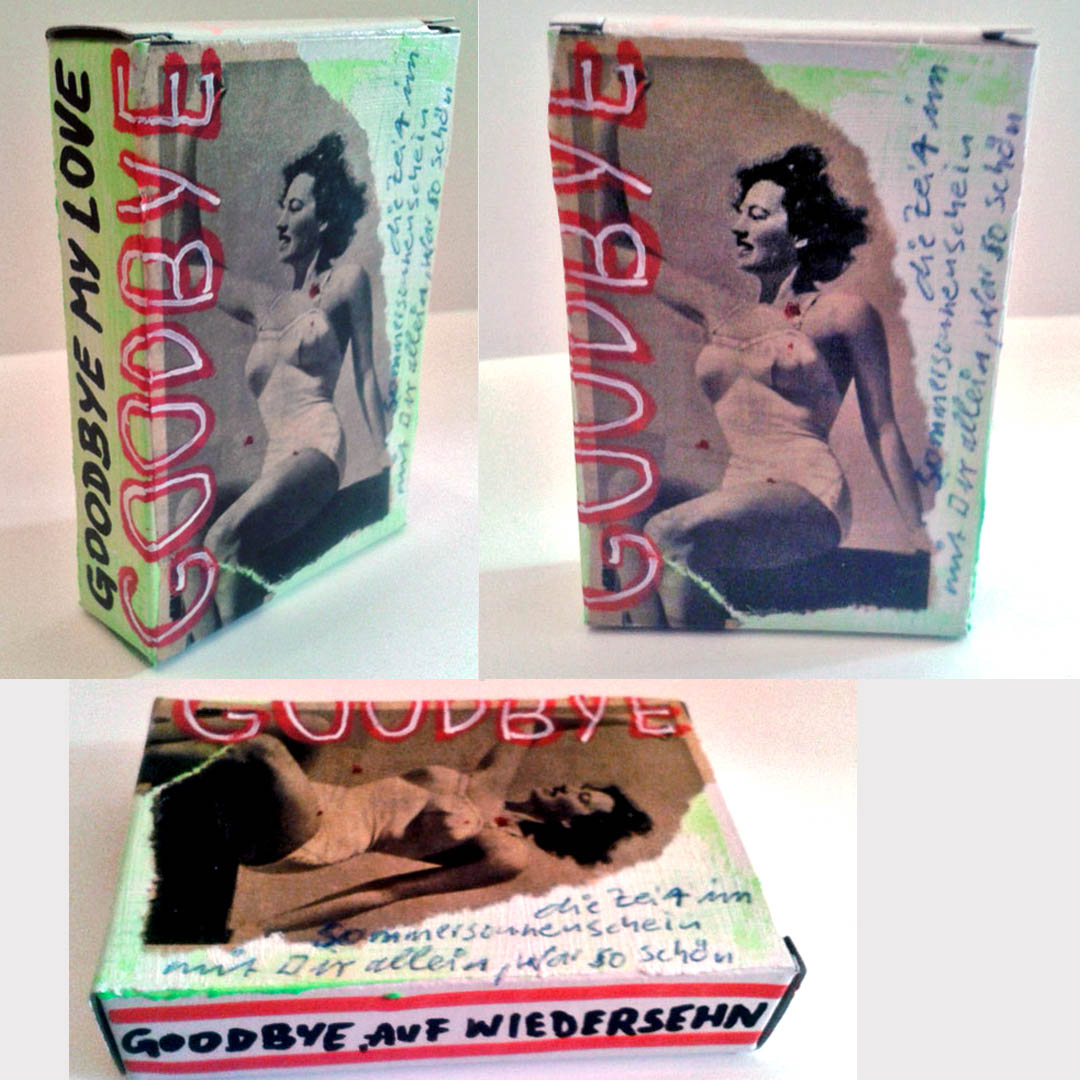 ART BOX – GOODBYE MY LOVE, GOODBYE (DEMIS ROUSSOS)
2013
Mixed-Media auf Papierschachtel
Mixed-Media on paper box
UNIKAT / UNIQUE
6 x 8,5 x 2 cm
ART BOX – LOVE LETTERS (KETTY LESTER)
2013
Mixed-Media auf Papierschachtel
Mixed-Media on paper box
UNIKAT / UNIQUE
6 x 8,5 x 2 cm