Paderborn-Collagen
Sehenswürdigkeiten und Wahrzeichen der Heimatstadt des Künstlers in einzigartigen Collagen
Sights and landmarks of the hometown of the artist in uncomon collages
Burkhard Lohren zelebriert als gebürtiger Paderborner die ikonischen Symbole seiner Heimatstadt. Der Künstler inszeniert in den Collagen den Paderborner Dom, das Rathaus oder das Theodorianum in einzigartiger Manier. Die Wahrzeichen der Stadt leuchten in ihrer Symbolträchtigkeit – der Betrachter spürt die Vielfalt Paderborns und es eröffnen sich immer wieder neue Perspektiven selbst auf sehr bekannte Motive.
Born in Paderborn, Burkhard Lohren celebrates the iconic symbols of his hometown. In these collages, the artist stages the Paderborn Cathedral, the Town Hall or the Theodorianum in an uncommon way. The city's landmarks shine deeply symbolic – the viewer feels the diversity of Paderborn and always new vistas are opened up – even of well-known motifs.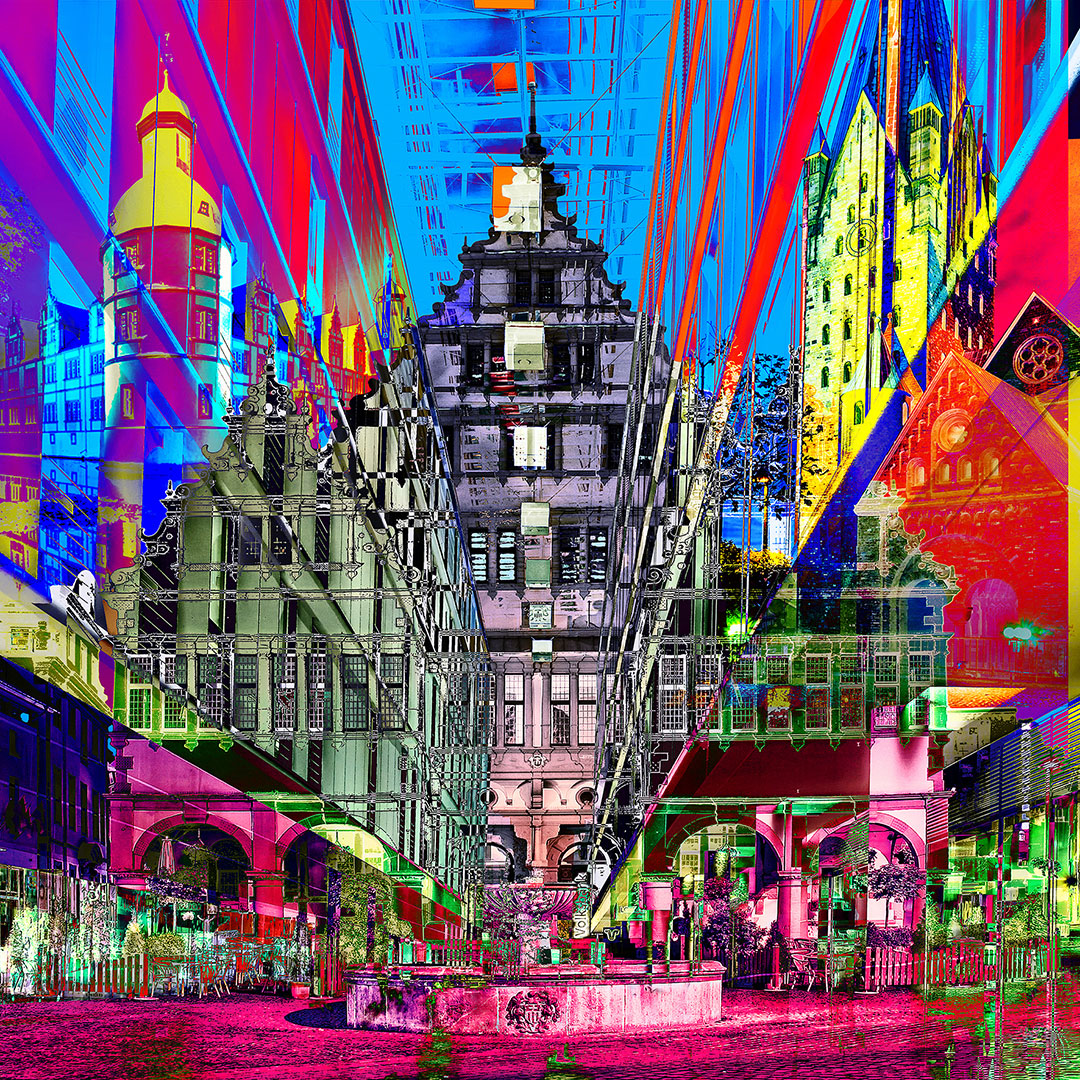 Paderborn-Collage
PBC 1- 2020
"Paderborn Psychedelic!
Druck auf Holzboard
Print on wooden panel
50 Expl./pcs. – 15 x 15 x 5 cm
50 Expl./pcs. – 20 x 20 x 5 cm
Druck auf Alu Dibond
Print on aluminium
4 Expl./pcs. 1 AP – 100 x 100 cm
Paderborn-Collage
PBC 2 – 2020
Druck auf Holzboard
Print on wooden panel
50 Expl./pcs. – 15 x 15 x 5 cm
50 Expl./pcs. – 20 x 20 x 5 cm
50 Expl./pcs. – 40 x 40 x 5 cm
Druck auf Leinwand
Print on canvas
6 Expl./pcs. 1 AP – 70 x 70 cm
6 Expl./pcs. 1 AP – 100 x 100 cm
Druck auf Alu Dibond
Print on aluminium
6 Expl./pcs. 1 AP – 40 x 40 cm
6 Expl./pcs. 1 AP – 70 x 70 cm
6 Expl./pcs. 1 AP – 100 x 100 cm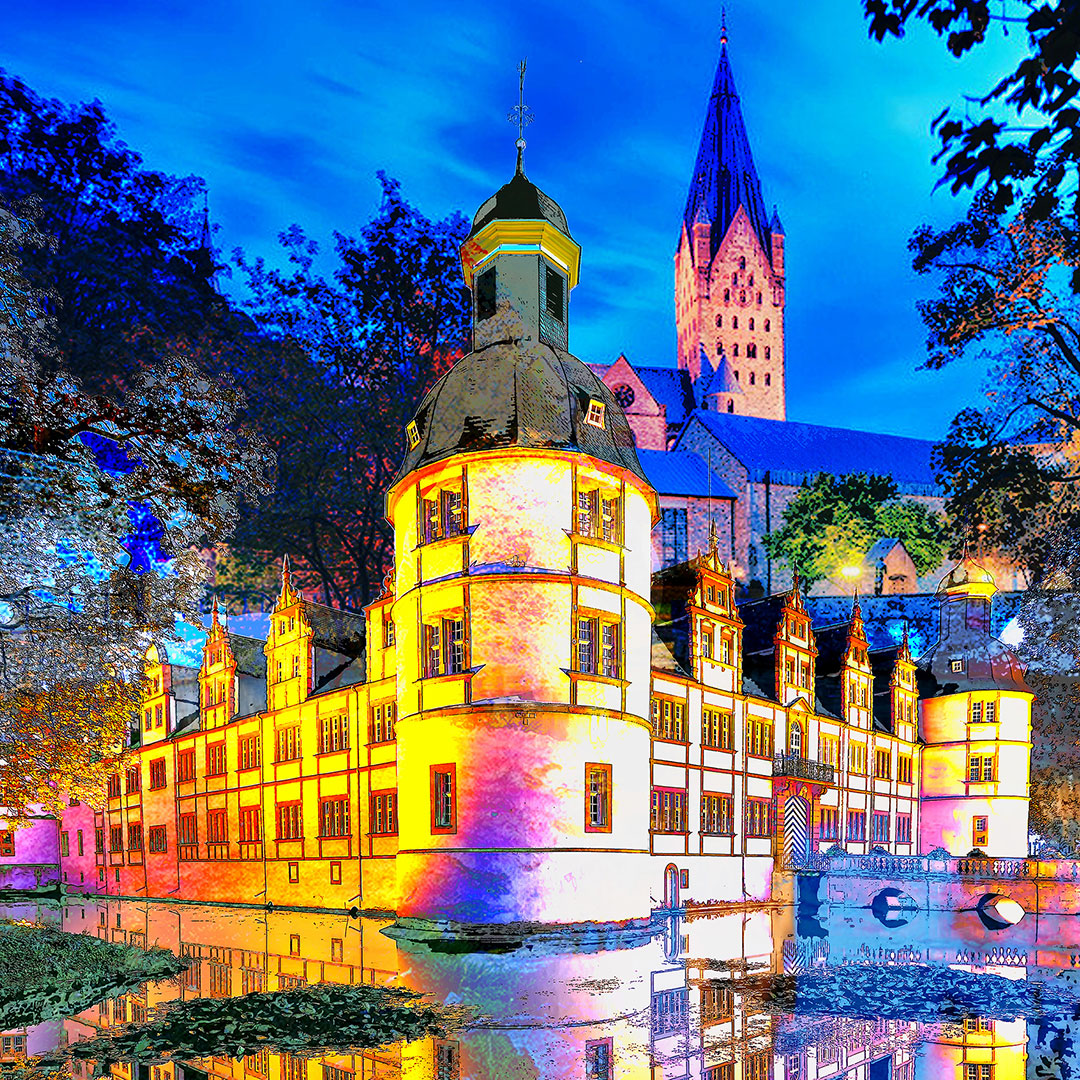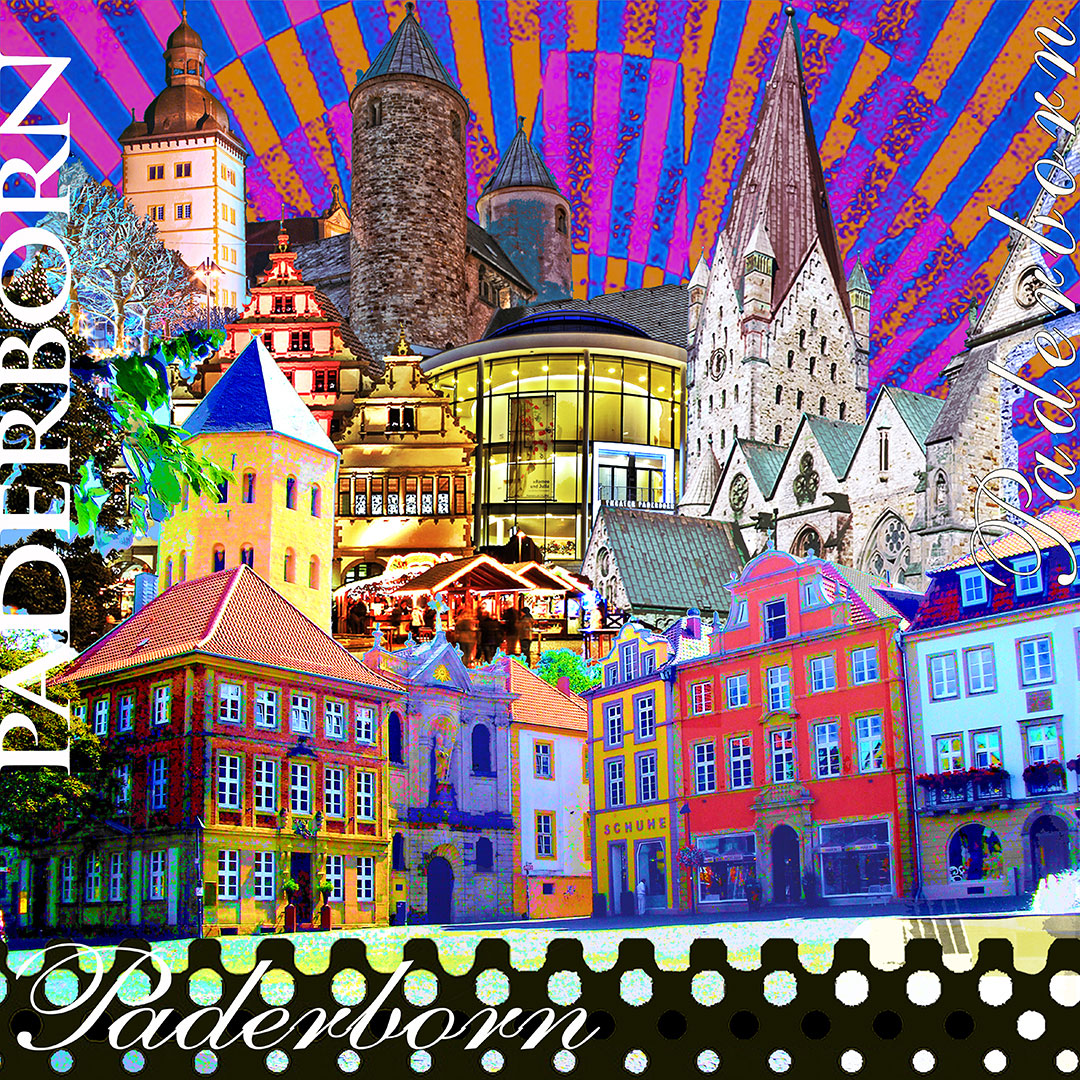 Paderborn-Collage
PBC 11 – 2018
Druck auf Holzboard
Print on wooden panel
50 Expl./pcs. – 15 x 15 x 5 cm
50 Expl./pcs. – 20 x 20 x 5 cm
50 Expl./pcs. – 40 x 40 x 5 cm
Druck auf Leinwand
Print on canvas
6 Expl./pcs. 1 AP – 70 x 70 cm
6 Expl./pcs. 1 AP – 100 x 100 cm
Druck auf Alu Dibond
Print on aluminium
6 Expl./pcs. 1 AP – 40 x 40 cm
6 Expl./pcs. 1 AP – 70 x 70 cm
6 Expl./pcs. 1 AP – 100 x 100 cm
Paderborn-Collage
PBC 10 – 2018
Druck auf Holzboard
Print on wooden panel
50 Expl./pcs. – 15 x 15 x 5 cm
50 Expl./pcs. – 20 x 20 x 5 cm
50 Expl./pcs. – 40 x 40 x 5 cm
Druck auf Leinwand
Print on canvas
6 Expl./pcs. 1 AP – 70 x 70 cm
6 Expl./pcs. 1 AP – 100 x 100 cm
Druck auf Alu Dibond
Print on aluminium
6 Expl./pcs. 1 AP – 40 x 40 cm
6 Expl./pcs. 1 AP – 70 x 70 cm
6 Expl./pcs. 1 AP – 100 x 100 cm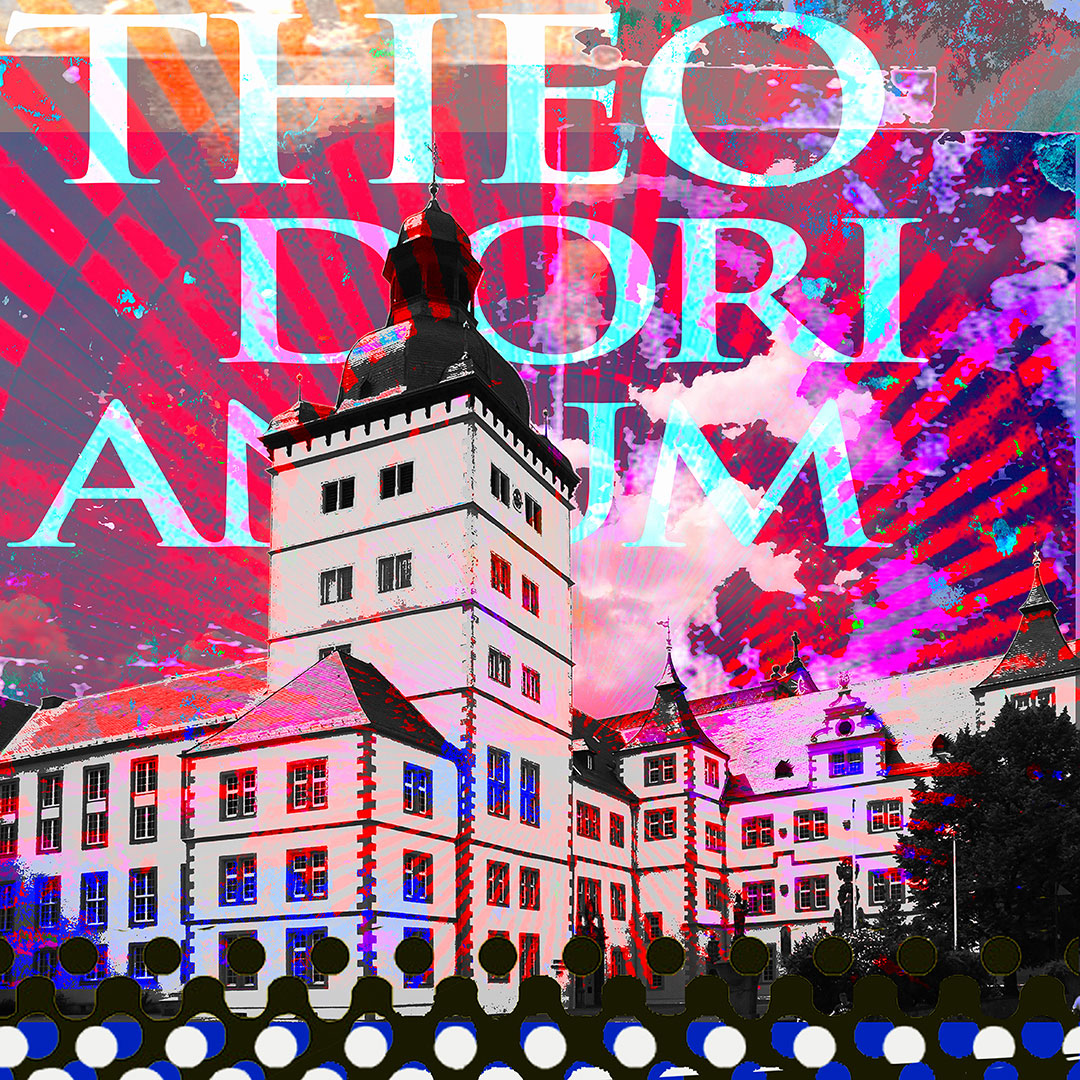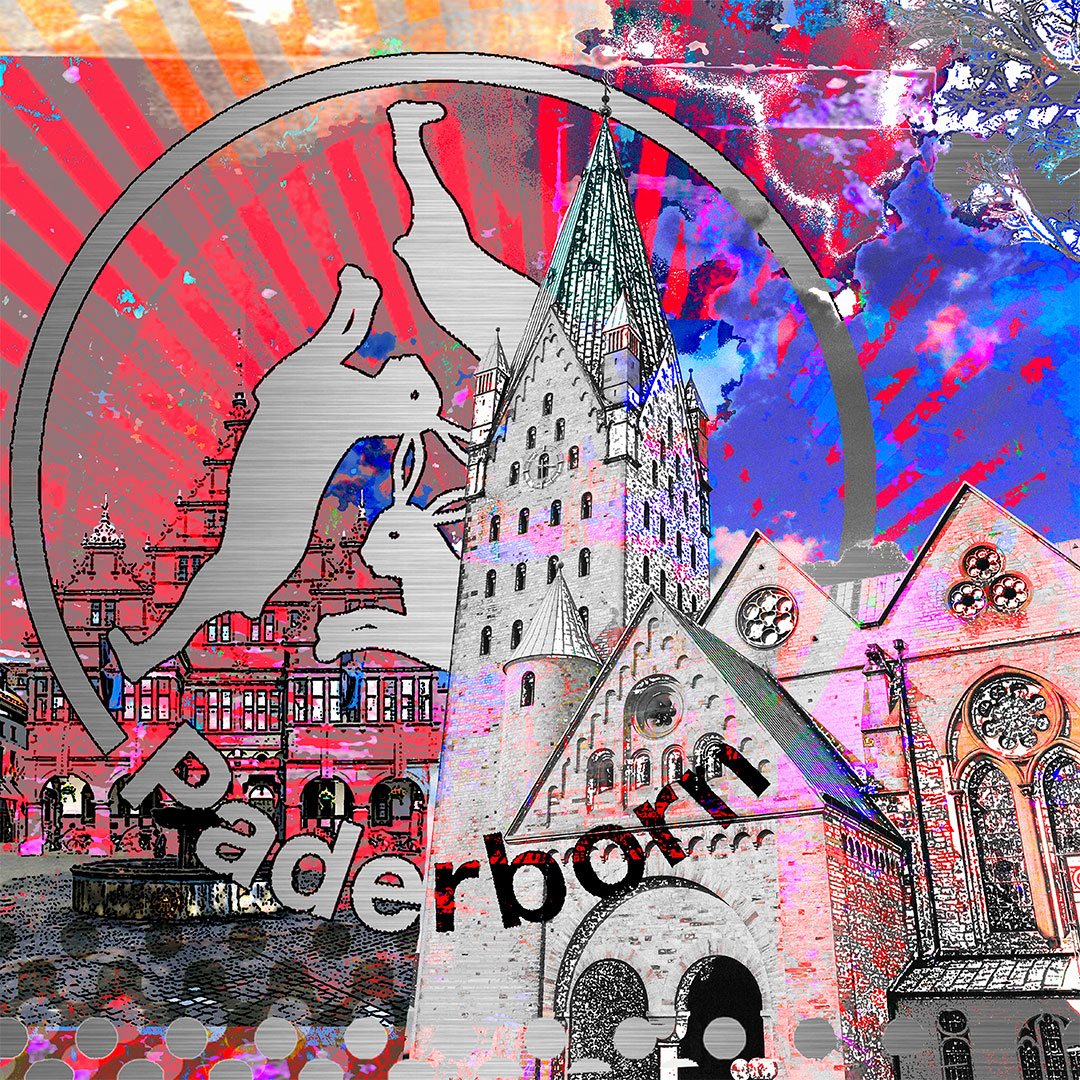 Paderborn-Collage
PBC 9 – 2018
Druck auf Holzboard
Print on wooden panel
50 Expl./pcs. – 15 x 15 x 5 cm
50 Expl./pcs. – 20 x 20 x 5 cm
50 Expl./pcs. – 40 x 40 x 5 cm
Druck auf Leinwand
Print on canvas
6 Expl./pcs. 1 AP – 70 x 70 cm
6 Expl./pcs. 1 AP – 100 x 100 cm
Druck auf Alu Dibond
Print on aluminium
6 Expl./pcs. 1 AP – 40 x 40 cm
6 Expl./pcs. 1 AP – 70 x 70 cm
6 Expl./pcs. 1 AP – 100 x 100 cm
Paderborn-Collage
PBC 8 – 2018
Druck auf Holzboard
Print on wooden panel
50 Expl./pcs. – 15 x 15 x 5 cm
50 Expl./pcs. – 20 x 20 x 5 cm
50 Expl./pcs. – 40 x 40 x 5 cm
Druck auf Leinwand
Print on canvas
6 Expl./pcs. 1 AP – 70 x 70 cm
6 Expl./pcs. 1 AP – 100 x 100 cm
Druck auf Alu Dibond
Print on aluminium
6 Expl./pcs. 1 AP – 40 x 40 cm
6 Expl./pcs. 1 AP – 70 x 70 cm
6 Expl./pcs. 1 AP – 100 x 100 cm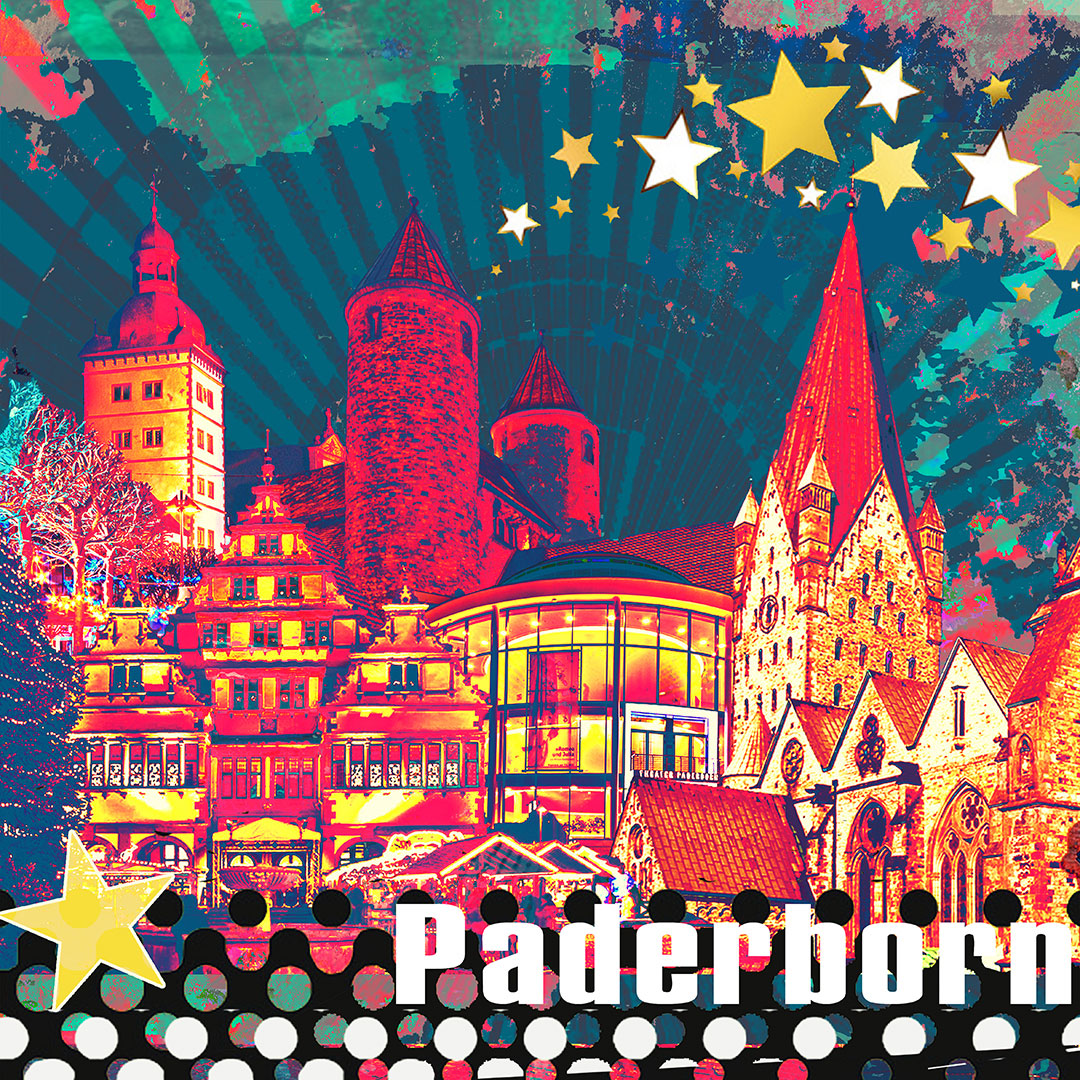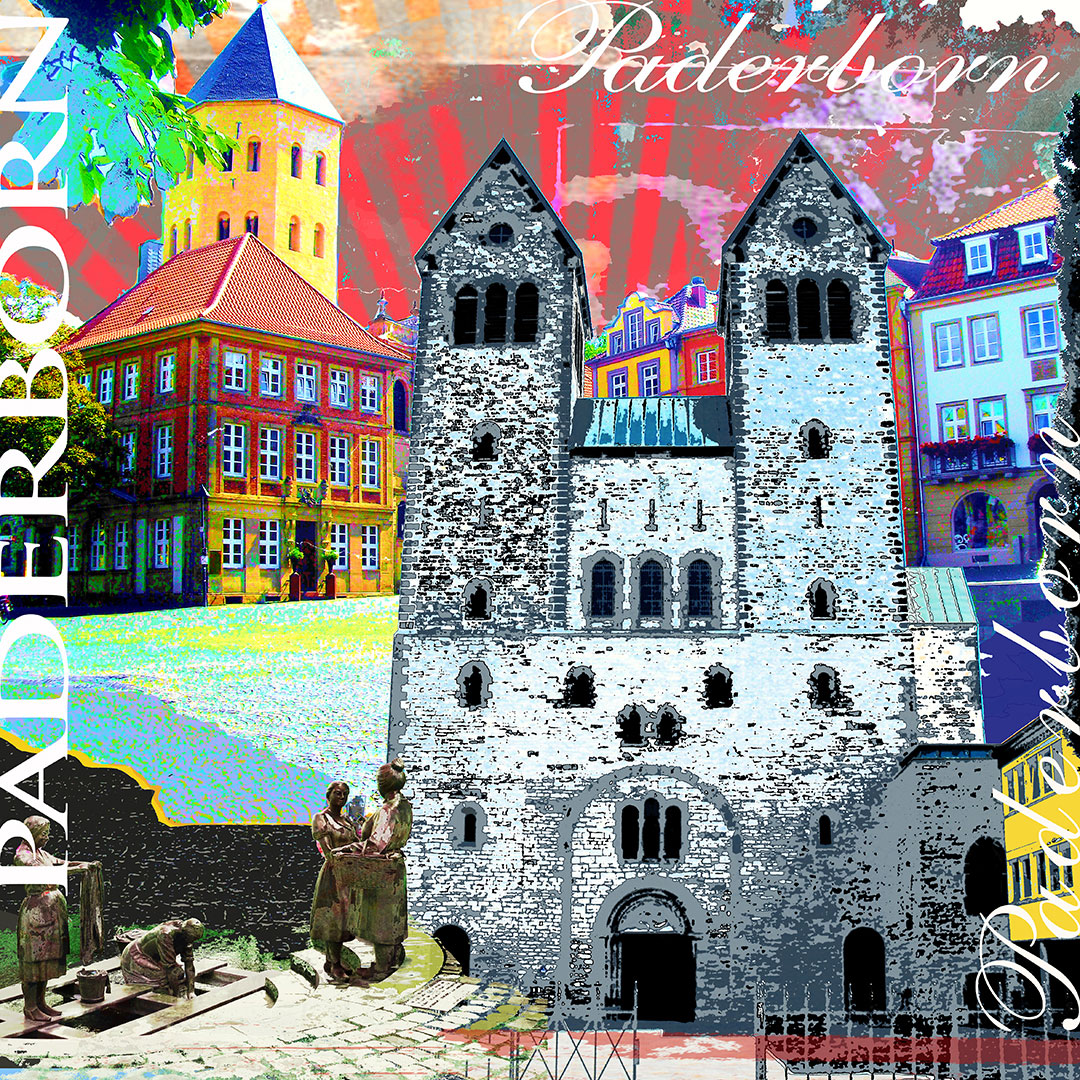 Paderborn-Collage
PBC 7 – 2018
Druck auf Holzboard
Print on wooden panel
50 Expl./pcs. – 15 x 15 x 5 cm
50 Expl./pcs. – 20 x 20 x 5 cm
50 Expl./pcs. – 40 x 40 x 5 cm
Druck auf Leinwand
Print on canvas
6 Expl./pcs. 1 AP – 70 x 70 cm
6 Expl./pcs. 1 AP – 100 x 100 cm
Druck auf Alu Dibond
Print on aluminium
6 Expl./pcs. 1 AP – 40 x 40 cm
6 Expl./pcs. 1 AP – 70 x 70 cm
6 Expl./pcs. 1 AP – 100 x 100 cm
Paderborn-Collage
PBC 6 – 2018
Druck auf Holzboard
Print on wooden panel
50 Expl./pcs. – 15 x 15 x 5 cm
50 Expl./pcs. – 20 x 20 x 5 cm
50 Expl./pcs. – 40 x 40 x 5 cm
Druck auf Leinwand
Print on canvas
6 Expl./pcs. 1 AP – 70 x 70 cm
6 Expl./pcs. 1 AP – 100 x 100 cm
Druck auf Alu Dibond
Print on aluminium
6 Expl./pcs. 1 AP – 40 x 40 cm
6 Expl./pcs. 1 AP – 70 x 70 cm
6 Expl./pcs. 1 AP – 100 x 100 cm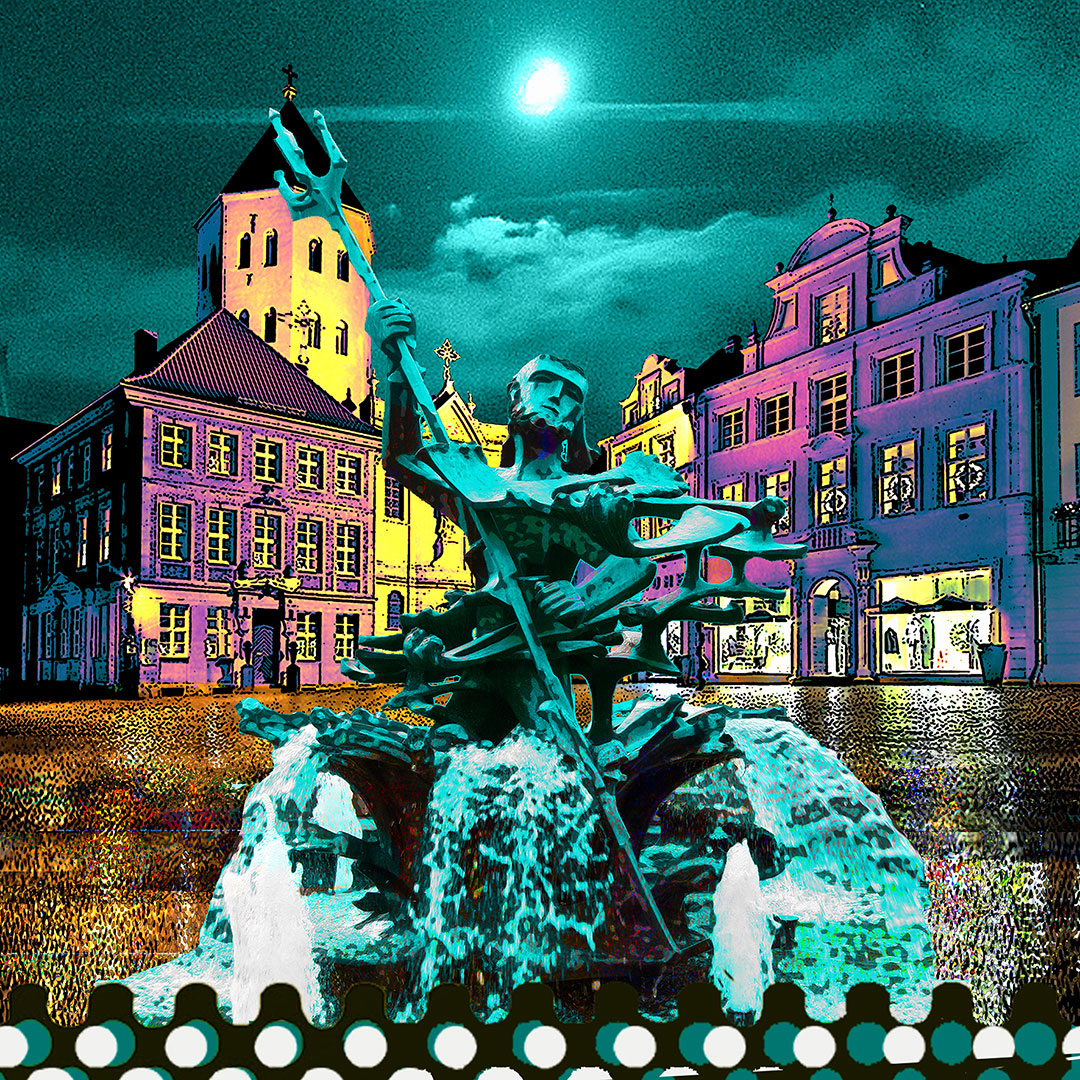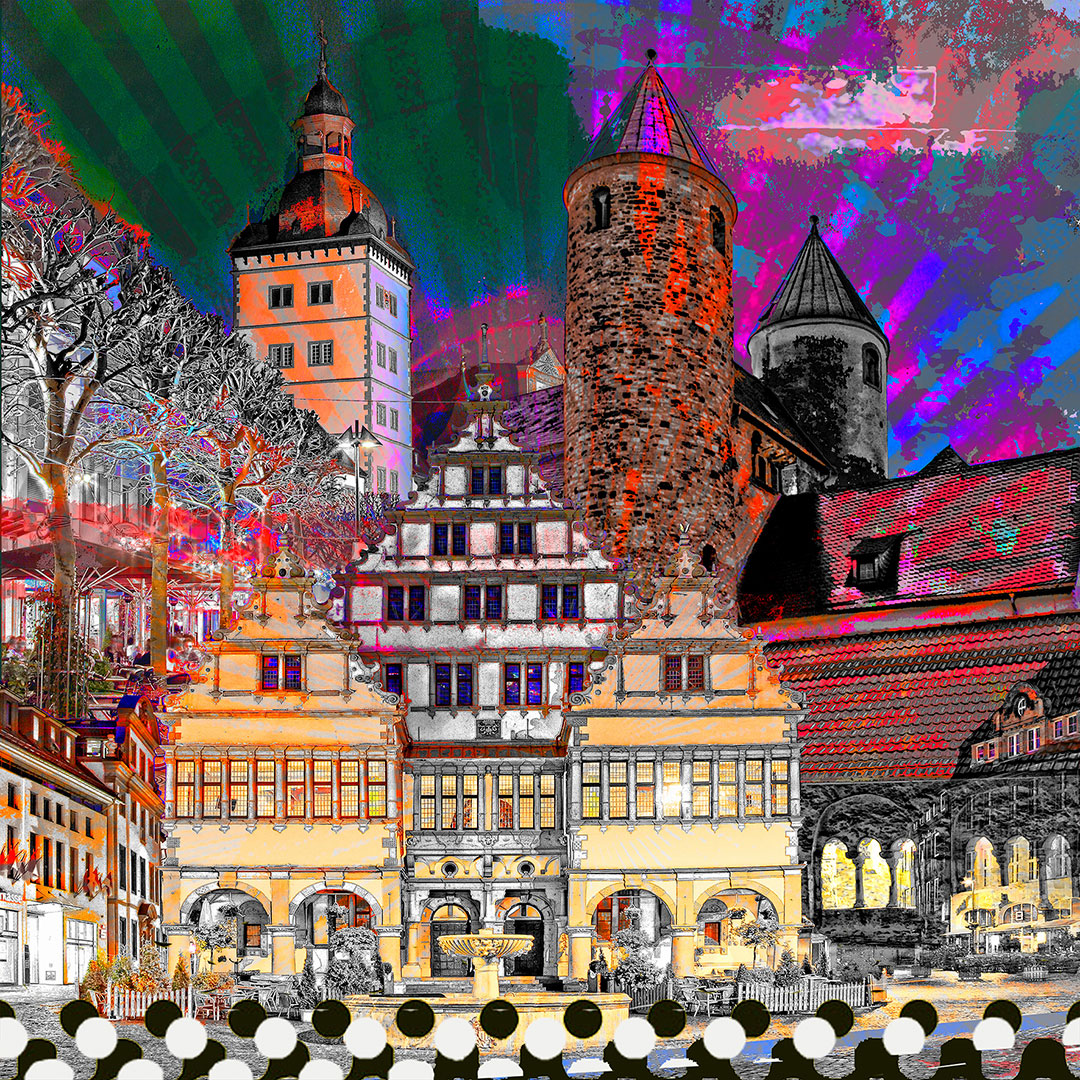 Paderborn-Collage
PBC 5 – 2018
Druck auf Holzboard
Print on wooden panel
50 Expl./pcs. – 15 x 15 x 5 cm
50 Expl./pcs. – 20 x 20 x 5 cm
50 Expl./pcs. – 40 x 40 x 5 cm
Druck auf Leinwand
Print on canvas
6 Expl./pcs. 1 AP – 70 x 70 cm
6 Expl./pcs. 1 AP – 100 x 100 cm
Druck auf Alu Dibond
Print on aluminium
6 Expl./pcs. 1 AP – 40 x 40 cm
6 Expl./pcs. 1 AP – 70 x 70 cm
6 Expl./pcs. 1 AP – 100 x 100 cm
Paderborn-Collage
PBC 4 – 2018
Druck auf Holzboard
Print on wooden panel
50 Expl./pcs. – 15 x 15 x 5 cm
50 Expl./pcs. – 20 x 20 x 5 cm
50 Expl./pcs. – 40 x 40 x 5 cm
Druck auf Leinwand
Print on canvas
6 Expl./pcs. 1 AP – 70 x 70 cm
6 Expl./pcs. 1 AP – 100 x 100 cm
Druck auf Alu Dibond
Print on aluminium
6 Expl./pcs. 1 AP – 40 x 40 cm
6 Expl./pcs. 1 AP – 70 x 70 cm
6 Expl./pcs. 1 AP – 100 x 100 cm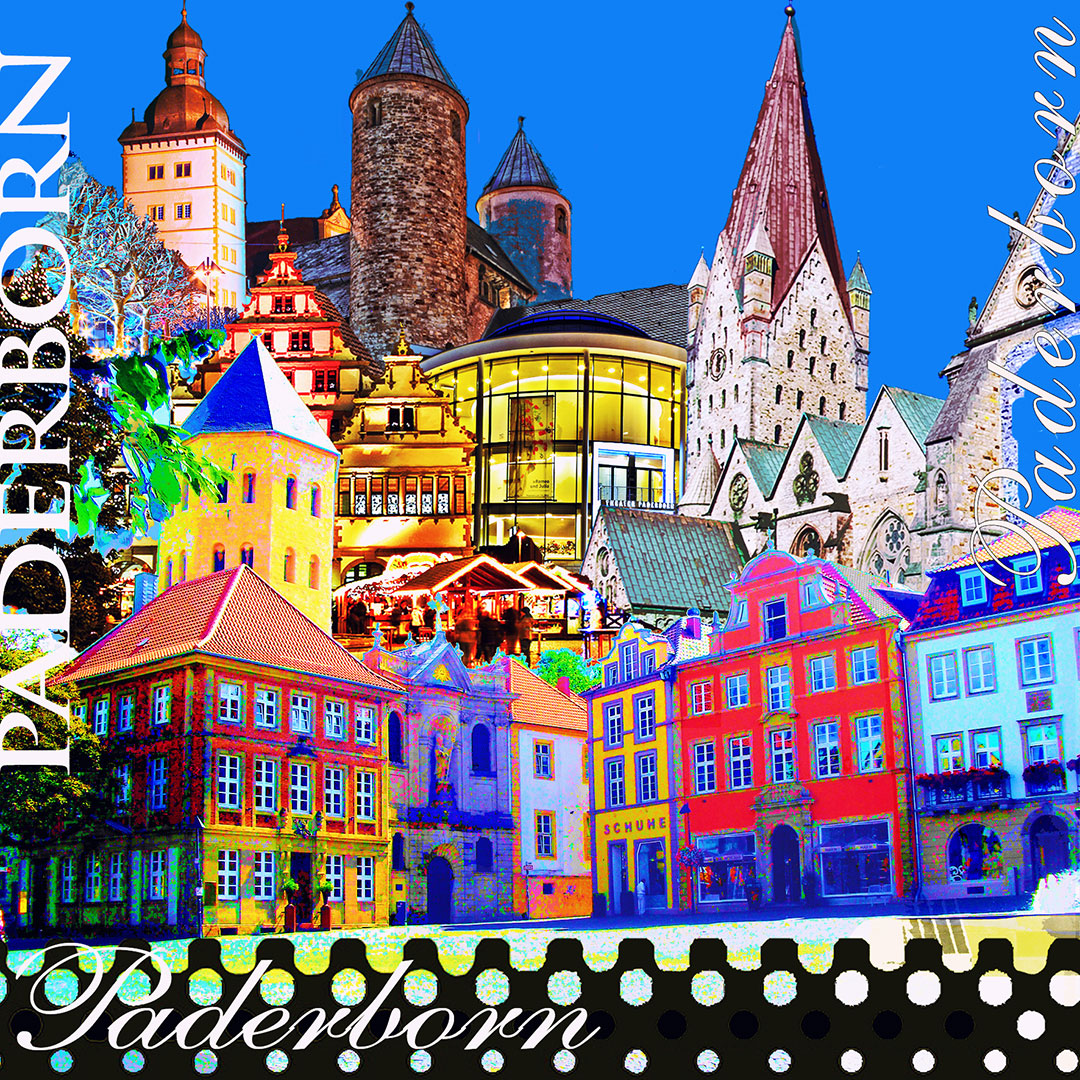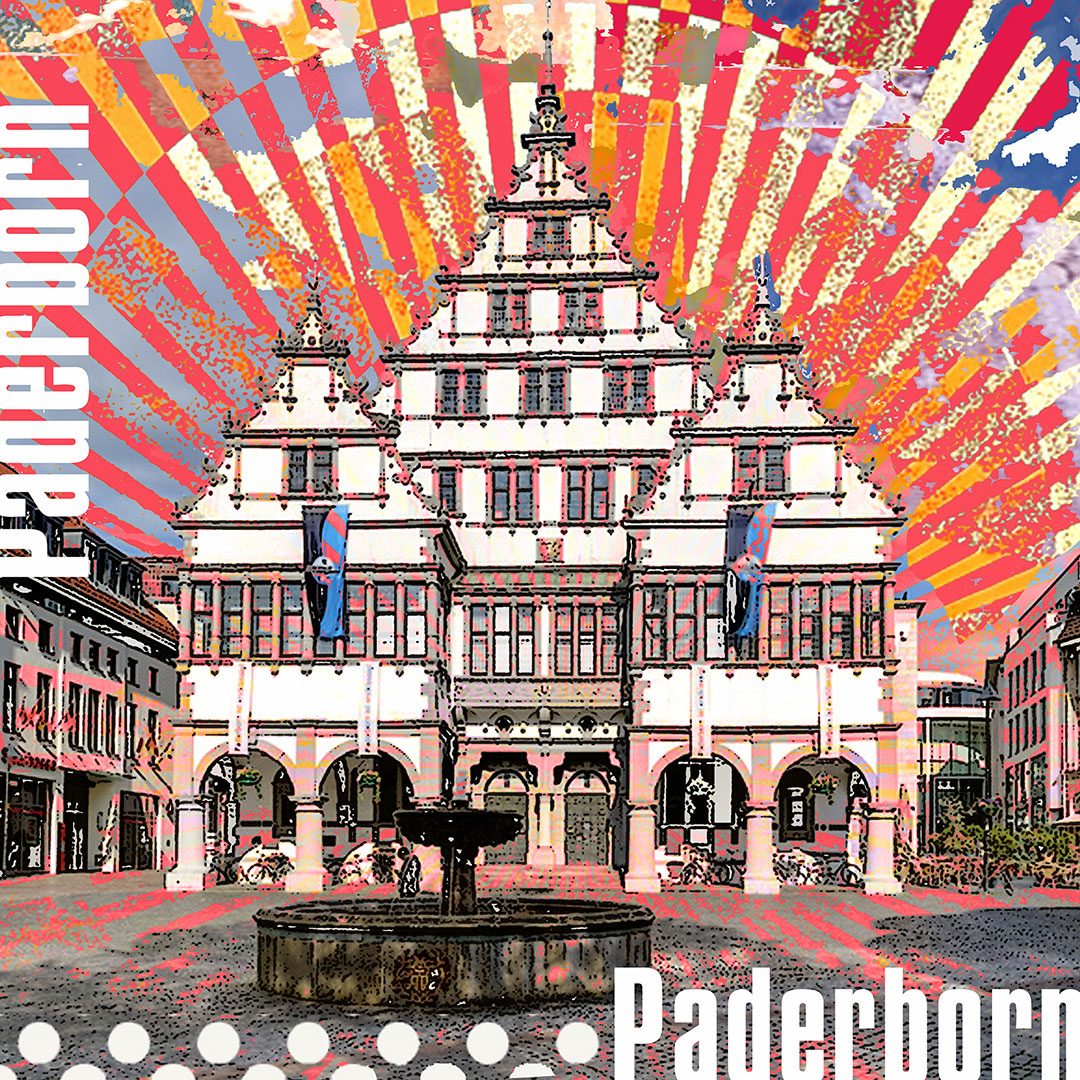 Paderborn-Collage
PBC 3 – 2018
Druck auf Holzboard
Print on wooden panel
50 Expl./pcs. – 15 x 15 x 5 cm
50 Expl./pcs. – 20 x 20 x 5 cm
50 Expl./pcs. – 40 x 40 x 5 cm
Druck auf Leinwand
Print on canvas
6 Expl./pcs. 1 AP – 70 x 70 cm
6 Expl./pcs. 1 AP – 100 x 100 cm
Druck auf Alu Dibond
Print on aluminium
6 Expl./pcs. 1 AP – 40 x 40 cm
6 Expl./pcs. 1 AP – 70 x 70 cm
6 Expl./pcs. 1 AP – 100 x 100 cm
Paderborn-Collage
PBC 2 – 2018
Druck auf Holzboard
Print on wooden panel
50 Expl./pcs. – 15 x 15 x 5 cm
50 Expl./pcs. – 20 x 20 x 5 cm
50 Expl./pcs. – 40 x 40 x 5 cm
Druck auf Leinwand
Print on canvas
6 Expl./pcs. 1 AP – 70 x 70 cm
6 Expl./pcs. 1 AP – 100 x 100 cm
Druck auf Alu Dibond
Print on aluminium
6 Expl./pcs. 1 AP – 40 x 40 cm
6 Expl./pcs. 1 AP – 70 x 70 cm
6 Expl./pcs. 1 AP – 100 x 100 cm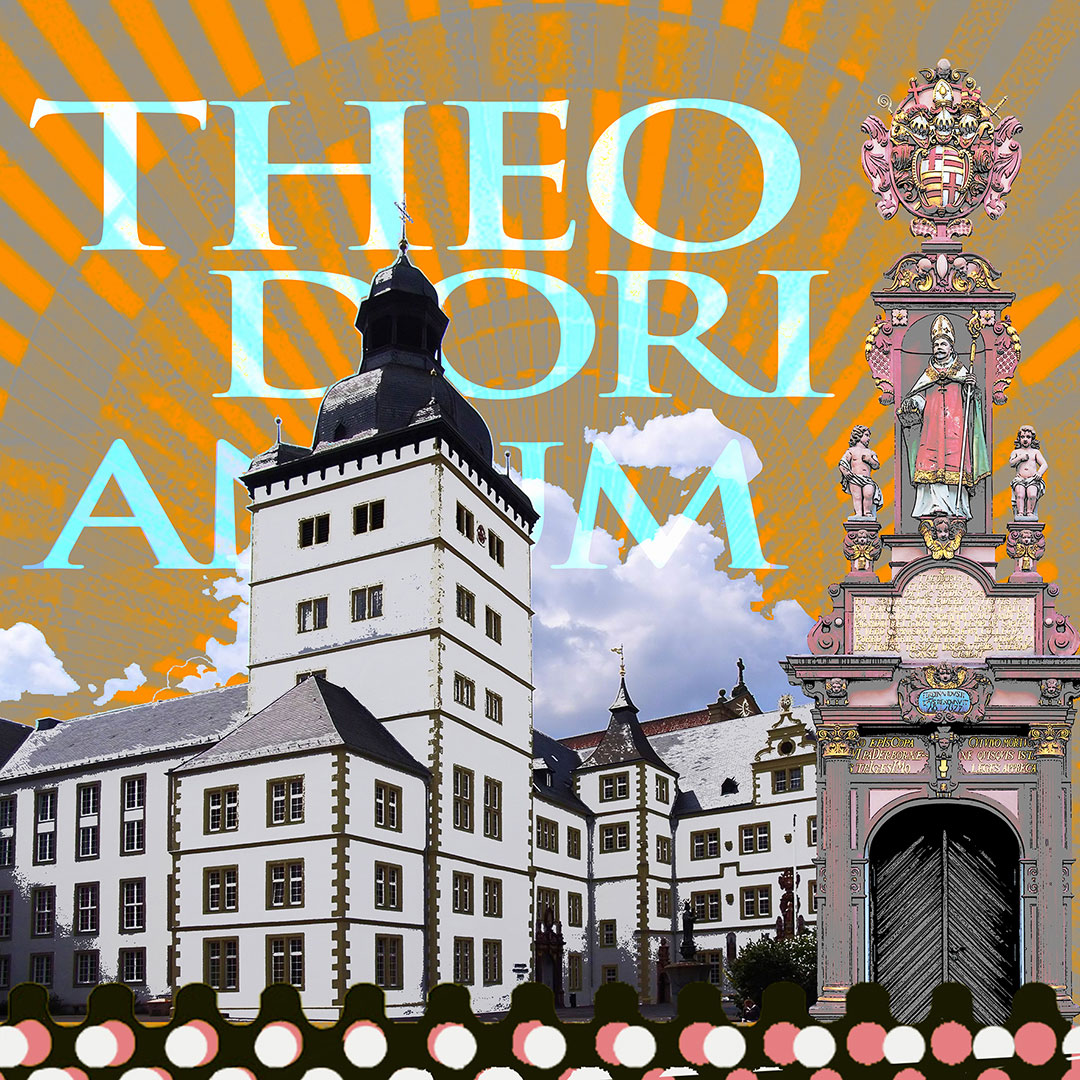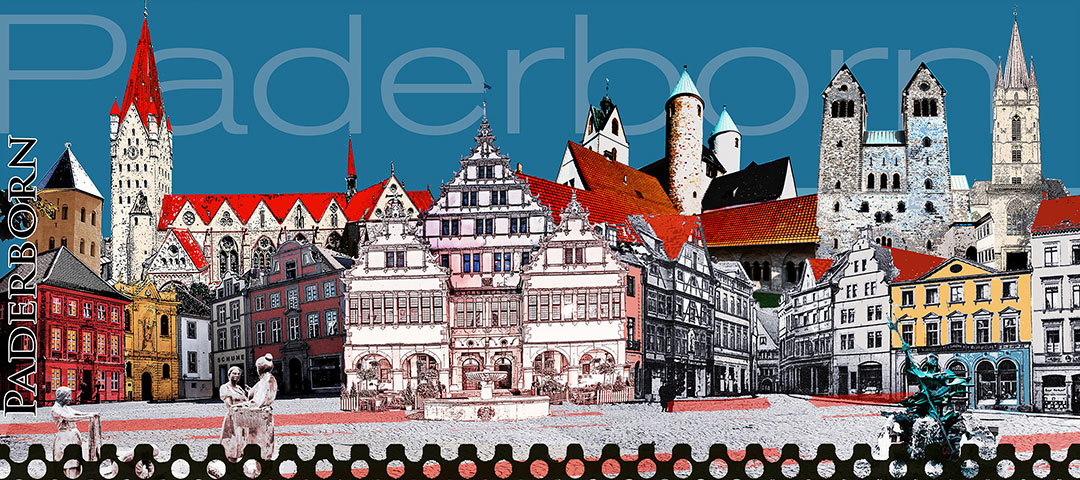 Paderborn-Collage
PBC 1 – 2018
Druck auf Alu Dibond
Print on aluminium
6 Expl./pcs. 1 AP – 40 x 90 cm
Paderborn-Collage
PBC 4 – 2017
Druck auf Alu Dibond
Print on aluminium
6 Expl./pcs. 1 AP – 40 x 90 cm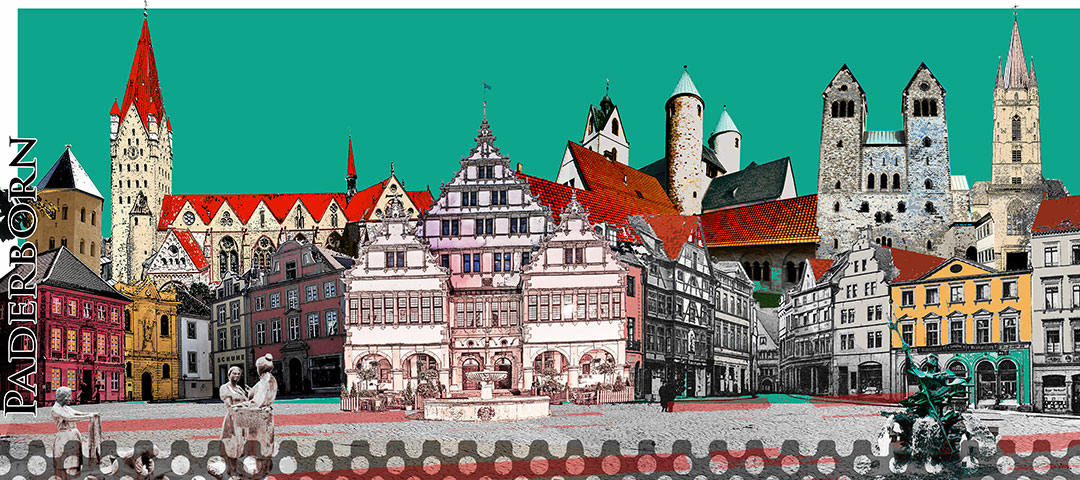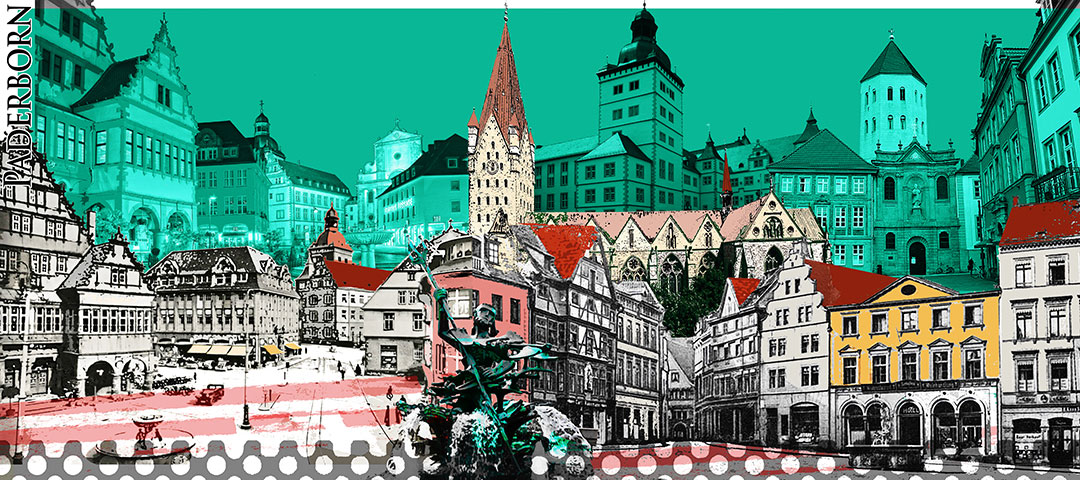 Paderborn-Collage
PBC 3 – 2017
Druck auf Alu Dibond
Print on aluminium
6 Expl./pcs. 1 AP – 40 x 90 cm
Paderborn-Collage
PBC 2 – 2017
Druck auf Holzboard
Print on wooden panel
50 Expl./pcs. – 15 x 15 x 5 cm
50 Expl./pcs. – 20 x 20 x 5 cm
50 Expl./pcs. – 40 x 40 x 5 cm
Druck auf Leinwand
Print on canvas
6 Expl./pcs. 1 AP – 70 x 70 cm
6 Expl./pcs. 1 AP – 100 x 100 cm
Druck auf Alu Dibond
Print on aluminium
6 Expl./pcs. 1 AP – 40 x 40 cm
6 Expl./pcs. 1 AP – 70 x 70 cm
6 Expl./pcs. 1 AP – 100 x 100 cm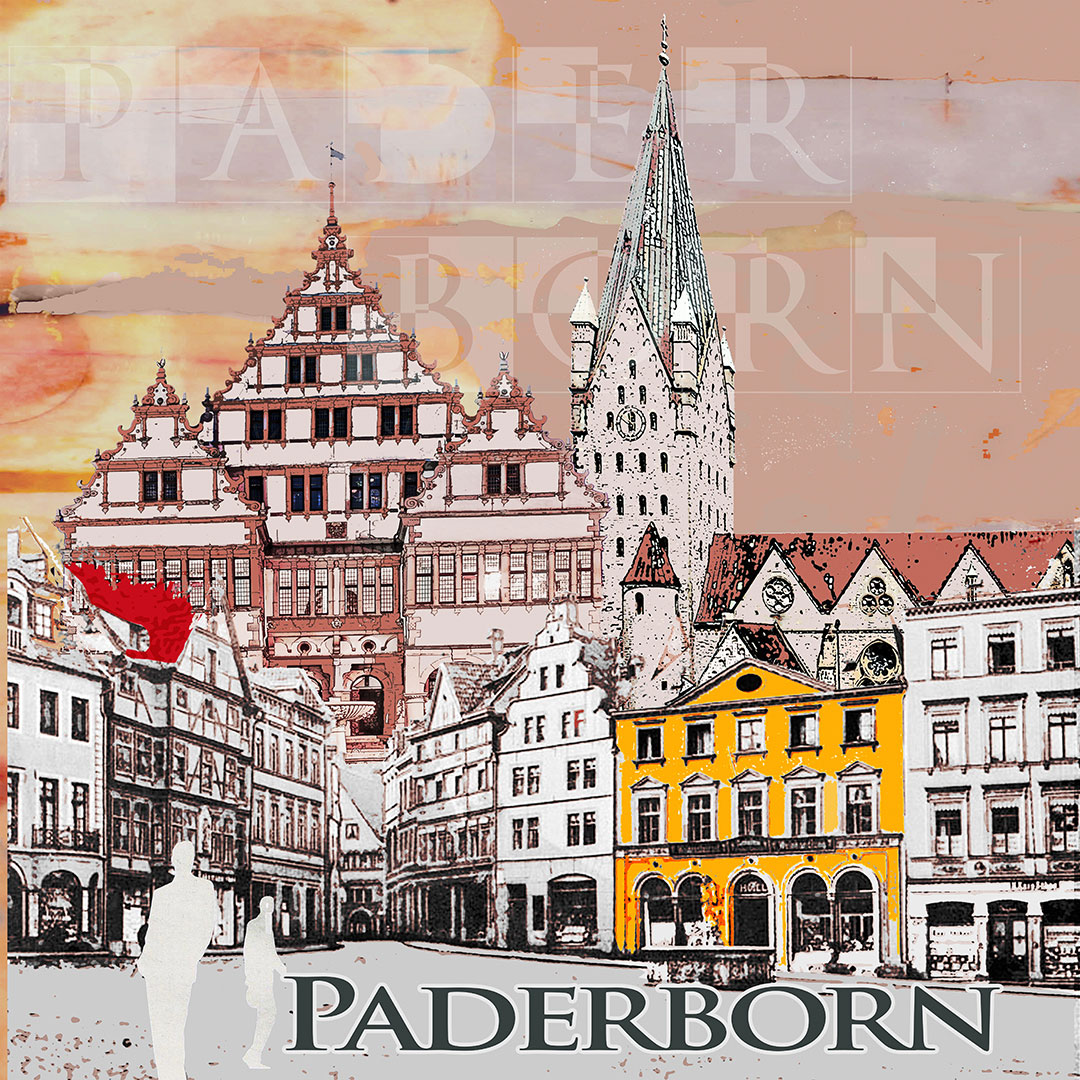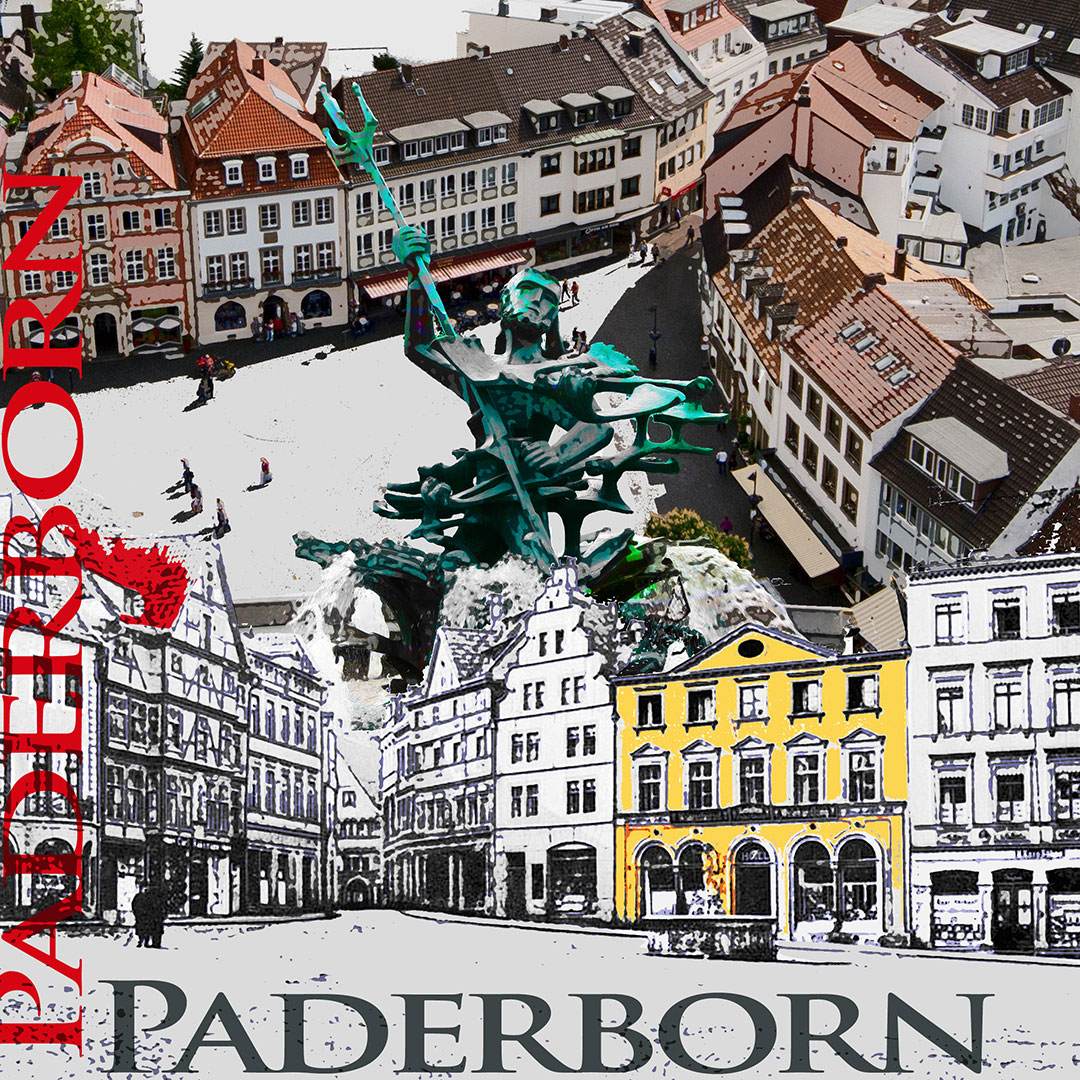 Paderborn-Collage
PBC 1 – 2017
Druck auf Holzboard
Print on wooden panel
50 Expl./pcs. – 15 x 15 x 5 cm
50 Expl./pcs. – 20 x 20 x 5 cm
50 Expl./pcs. – 40 x 40 x 5 cm
Druck auf Leinwand
Print on canvas
6 Expl./pcs. 1 AP – 70 x 70 cm
6 Expl./pcs. 1 AP – 100 x 100 cm
Druck auf Alu Dibond
Print on aluminium
6 Expl./pcs. 1 AP – 40 x 40 cm
6 Expl./pcs. 1 AP – 70 x 70 cm
6 Expl./pcs. 1 AP – 100 x 100 cm
Paderborn-Collage
PBC 2 – 2016
Druck auf Leinwand
Print on canvas
6 Expl./pcs. 1 AP – 60 x 100 cm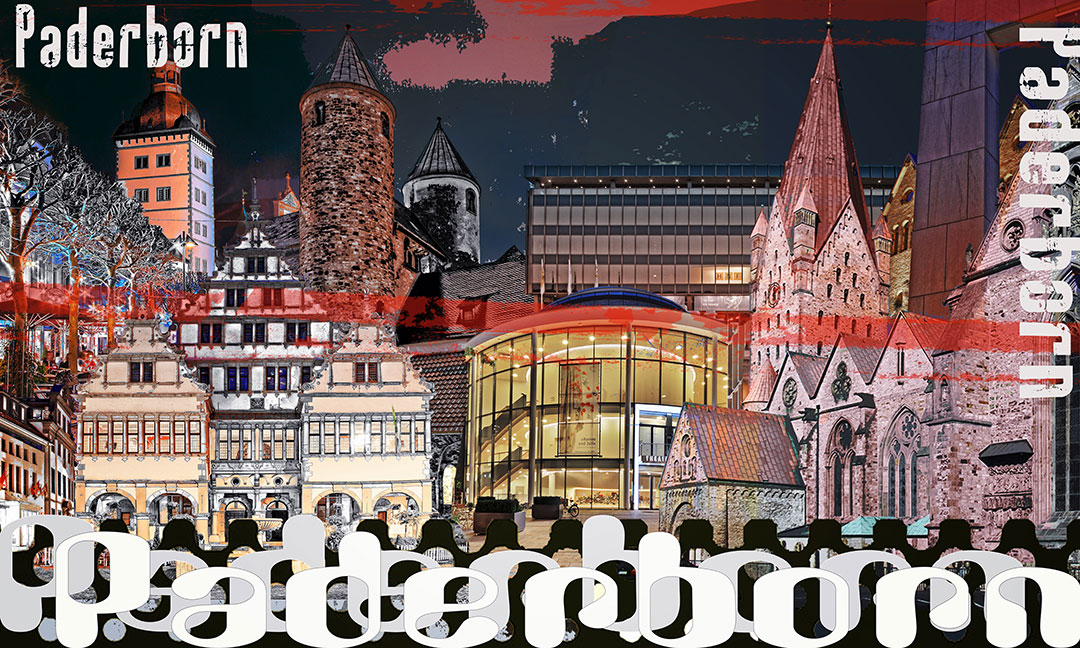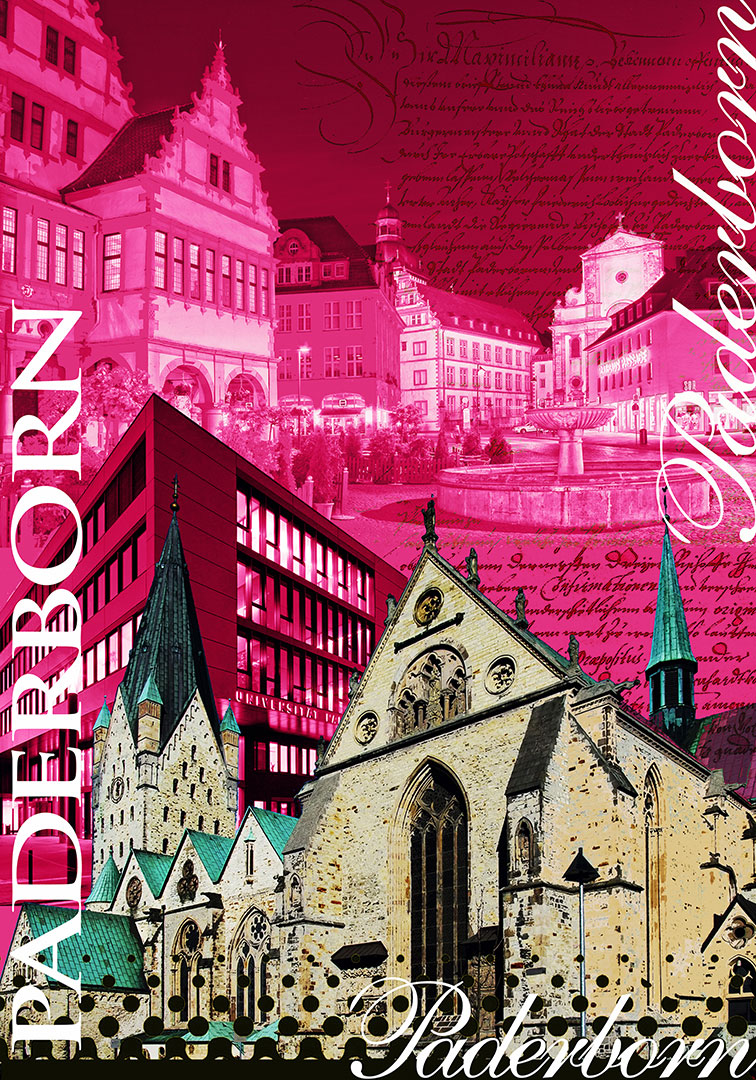 Paderborn-Collage
PBC 1 – 2016
Druck auf Leinwand
Print on canvas
Unikat – 100 x 60 cm
SOLD
Paderborn-Collage
PBC 5 – 2015
Druck auf Holzboard
Print on wooden panel
50 Expl./pcs. – 15 x 15 x 5 cm
50 Expl./pcs. – 20 x 20 x 5 cm
50 Expl./pcs. – 40 x 40 x 5 cm
Druck auf Leinwand
Print on canvas
1 Expl./pcs.  – 70 x 70 cm
1 Expl./pcs. – 100 x 100 cm
Druck auf Alu Dibond
Print on aluminium
6 Expl./pcs. 1 AP – 40 x 40 cm
6 Expl./pcs. 1 AP – 70 x 70 cm
6 Expl./pcs. 1 AP – 100 x 100 cm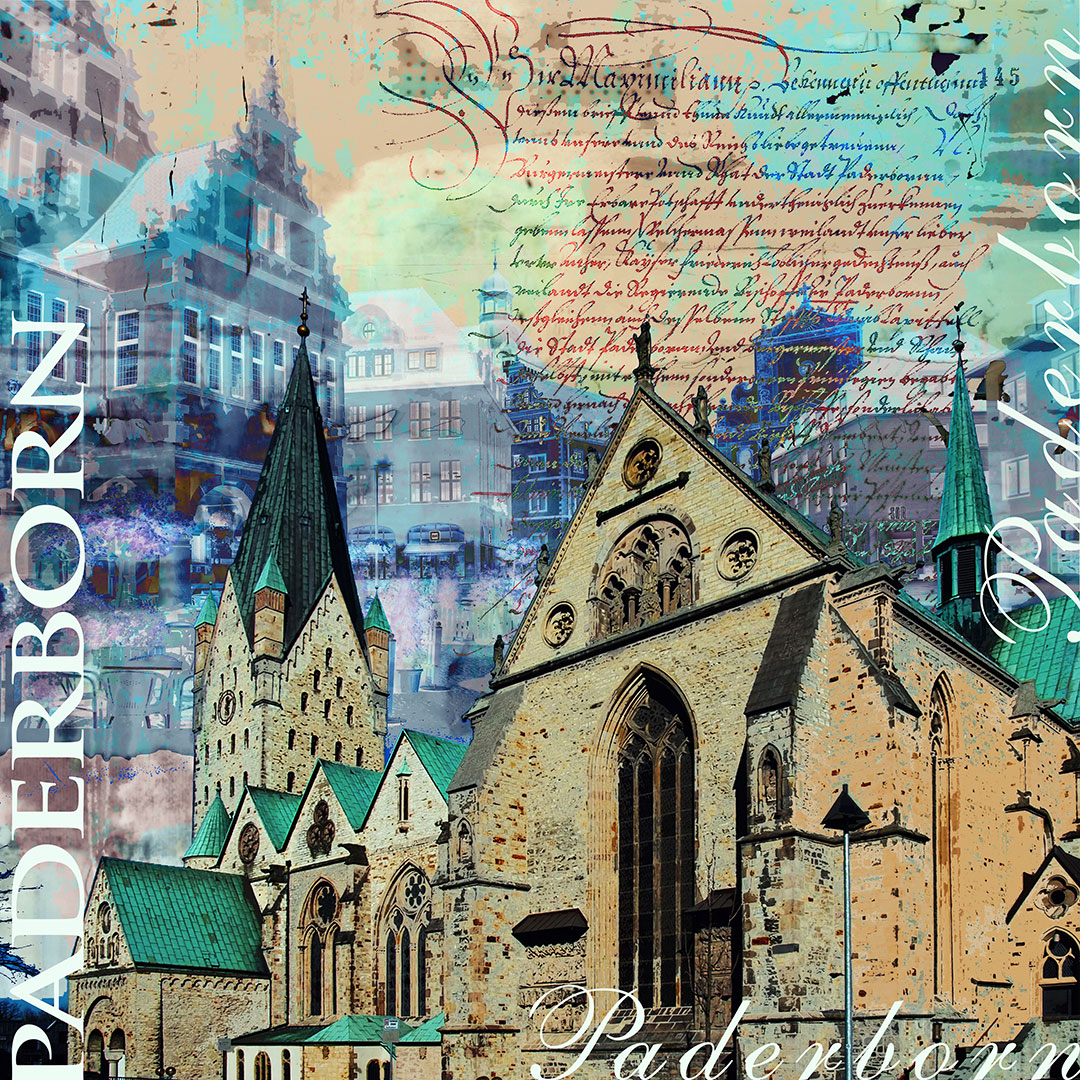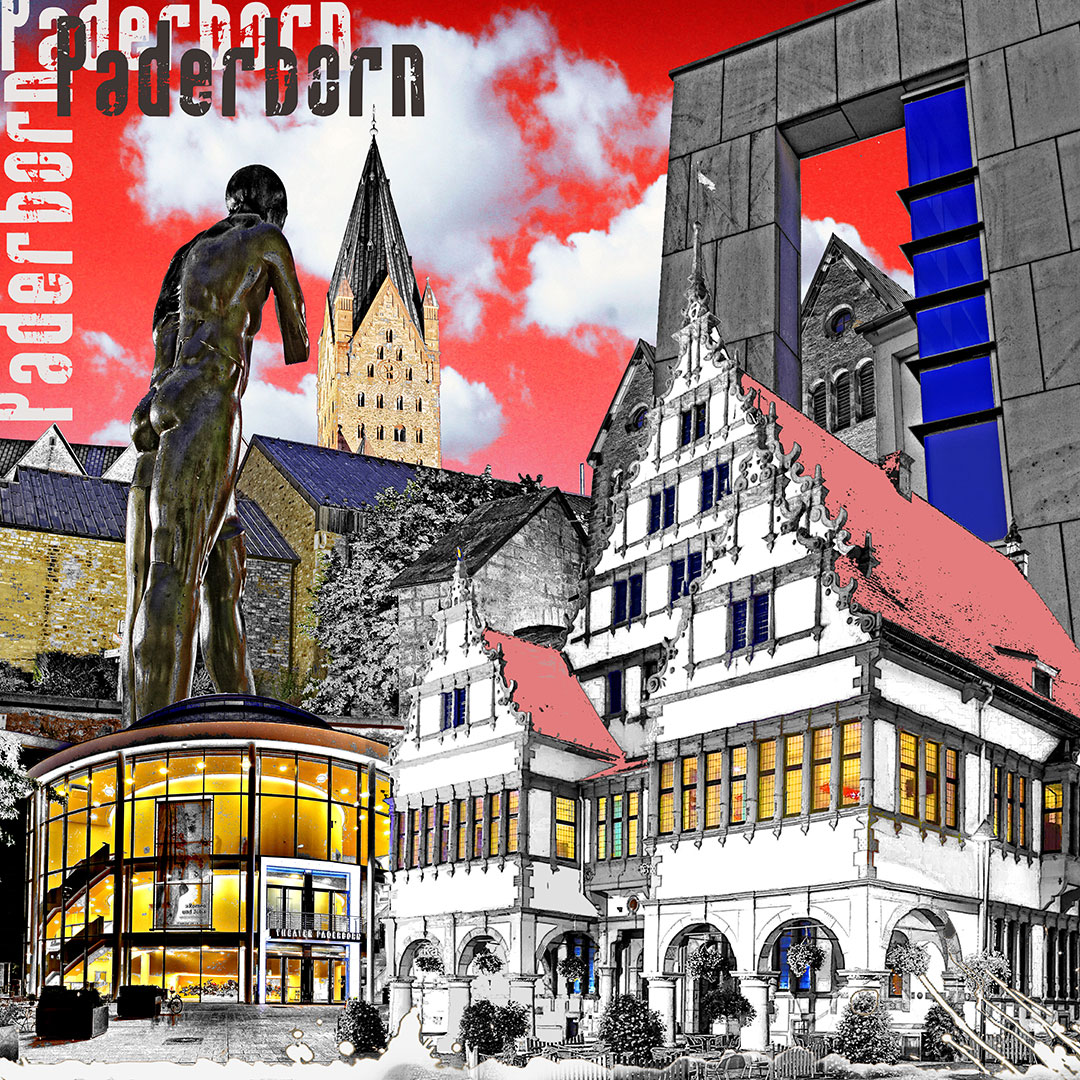 Paderborn-Collage
PBC 4 – 2015
Druck auf Holzboard
Print on wooden panel
50 Expl./pcs. – 15 x 15 x 5 cm
50 Expl./pcs. – 20 x 20 x 5 cm
50 Expl./pcs. – 40 x 40 x 5 cm
Druck auf Leinwand
Print on canvas
1 Expl./pcs.  – 70 x 70 cm
1 Expl./pcs. – 100 x 100 cm
Druck auf Alu Dibond
Print on aluminium
1 Expl./pcs. 1 AP – 100 x 100 cm
Paderborn-Collage
PBC 3 – 2015
Druck auf Holzboard
Print on wooden panel
50 Expl./pcs. – 15 x 15 x 5 cm
50 Expl./pcs. – 20 x 20 x 5 cm
50 Expl./pcs. – 40 x 40 x 5 cm
Druck auf Leinwand
Print on canvas
1 Expl./pcs. –  100 x 100 cm
Druck auf Alu Dibond
Print on aluminium
1 Expl./pcs. 1 AP – 100 x 100 cm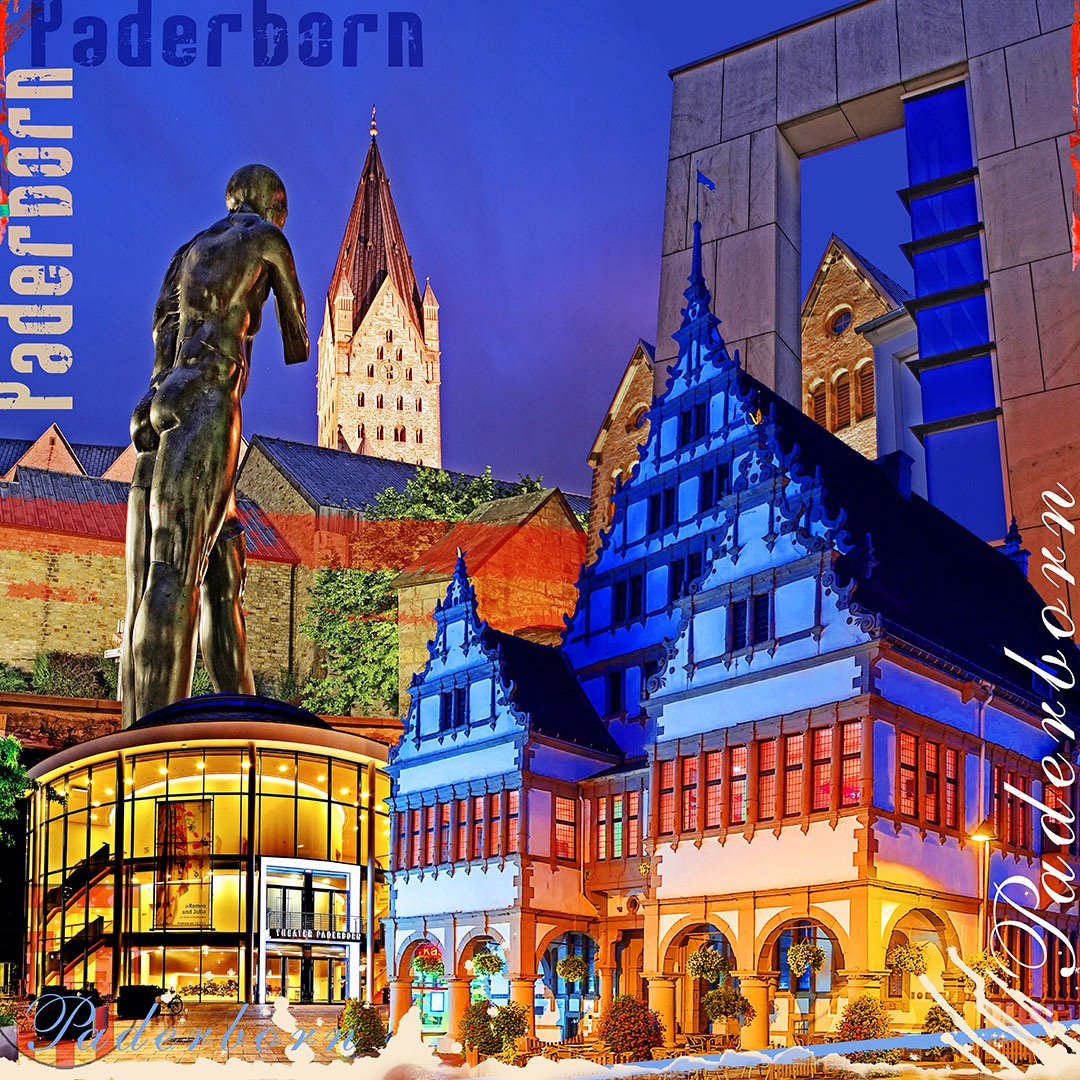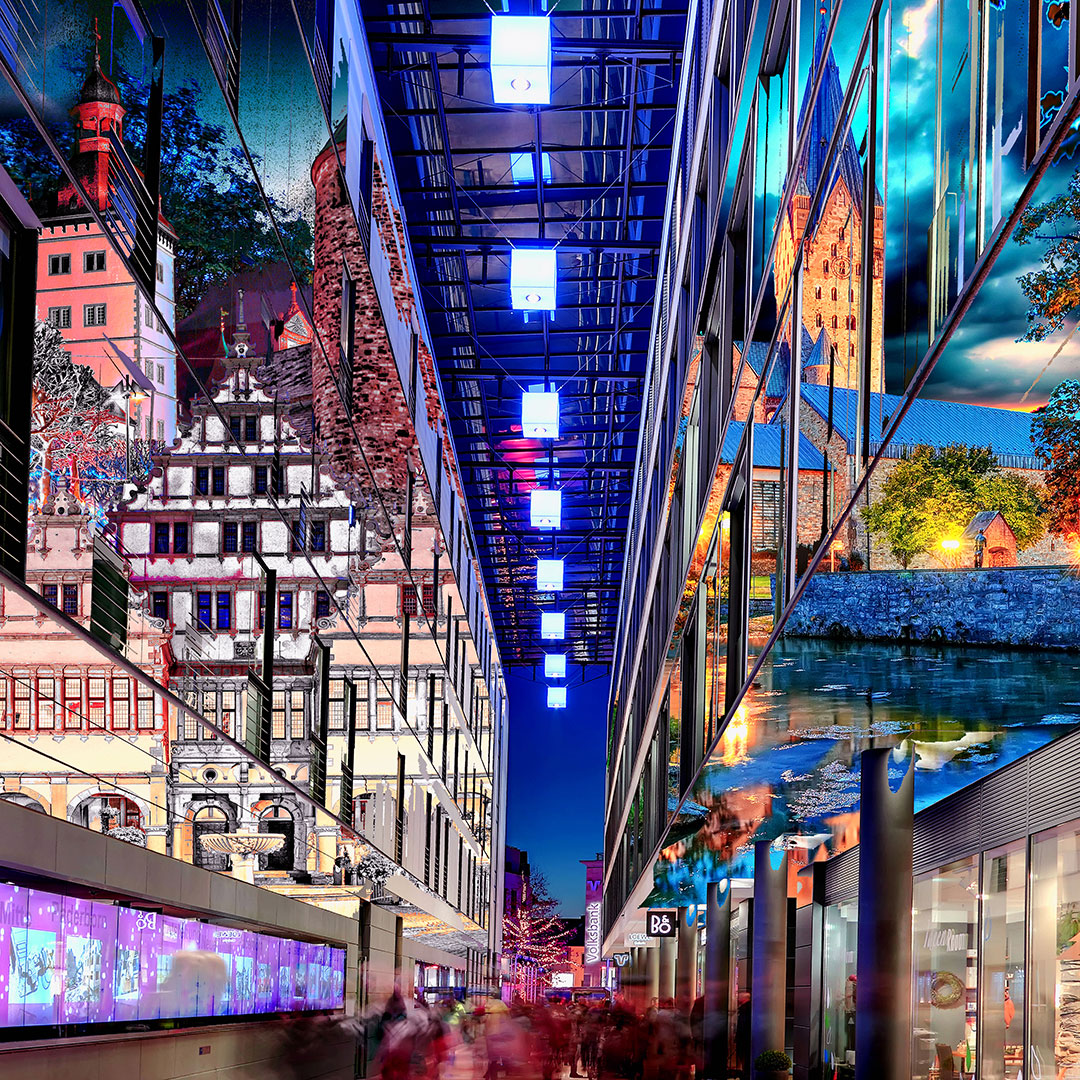 Paderborn-Collage
PBC 2 – 2015
Druck auf Holzboard
Print on wooden panel
50 Expl./pcs. – 15 x 15 x 5 cm
50 Expl./pcs. – 20 x 20 x 5 cm
50 Expl./pcs. – 40 x 40 x 5 cm
Druck auf Leinwand
Print on canvas
1 Expl./pcs. –  100 x 100 cm
Druck auf Alu Dibond
Print on aluminium
1 Expl./pcs. 1 AP – 100 x 100 cm
Paderborn-Collage
PBC 1 -2015
Druck auf Holzboard
Print on wooden panel
50 Expl./pcs. – 15 x 15 x 5 cm
50 Expl./pcs. – 20 x 20 x 5 cm
50 Expl./pcs. – 40 x 40 x 5 cm
Druck auf Leinwand
Print on canvas
1 Expl./pcs. –  100 x 100 cm
Druck auf Alu Dibond
Print on aluminium
1 Expl./pcs. 1 AP – 100 x 100 cm