Wanted
Al Capone & Co - die berüchtigsten Gangster der Geschichte in modernen Pop Art Collagen
Al Capone & Co - the most notorious gangster in history in modern pop art collages
Burkhard Lohren konfrontiert den Betrachter in "Wanted", so der Titel der Werkserie, mit Portraits, von Gangstern, die im Gedächtnis ihren Platz gefunden haben. Der französische Bankräuber und Staatsfeind Nr. 1, Jaques Mesrine, der amerikanische Gangster John Dillinger oder auch Bonnie Parker und Clyde Barrow sind die "Heroes" dieser Serie. Gangsterfiguren, Public Enemies und Antihelden aus der Unterwelt gehören für Lohren ebenso zur modernen Großstadt und zum "Citystyle" wie Sehenswürdigkeiten und Wahrzeichen.
"Wanted" ist daher eine logische Konsequenz bei der Weiterführung seiner Pop Art Serien. In gewohnter Manier poppig und detailreich inszeniert und interpretiert Lohren die Gangsterportraits. Jeder Betrachter wird auch hier etwas finden, was er wiedererkennt und womit er Assoziationen zu den Geschichten der Outsider knüpft. Lohren zeigt uns jedoch keine tadellosen Helden. Er dekonstruiert ihre Rolle, indem er die dunklen Momente der Niederlage, die Steckbriefe oder zerschossenen Fluchtfahrzeuge im Bildgefüge integriert.
Burkhard Lohren confronts the viewer in "Wanted", the title of this work series, with portraits of gangsters who have found their place in history. The French bank robber and public enemy No. 1, Jaques Mesrine, the American gangster John Dillinger or Bonnie Parker and Clyde Barrow are the "heroes" of this series. Gangster figures, public enemies and anti-heroes from the underworld belong to Lohren as much as to modern cities and to the "city style" like sights and landmarks.
Therefore "Wanted" is a logical consequence of the continuity of his Pop Art series. Lohren stages and interprets the gangster portraits in a loud and trendy, but detailed way. Every viewer will find something here, which he will recognize and by which he will associate stories with these outsiders. But Lohren does not show us blameless heroes. He deconstructs their role by integrating the dark moments of their defeat, the wanted posters or shot-away escape vehicles within the picture.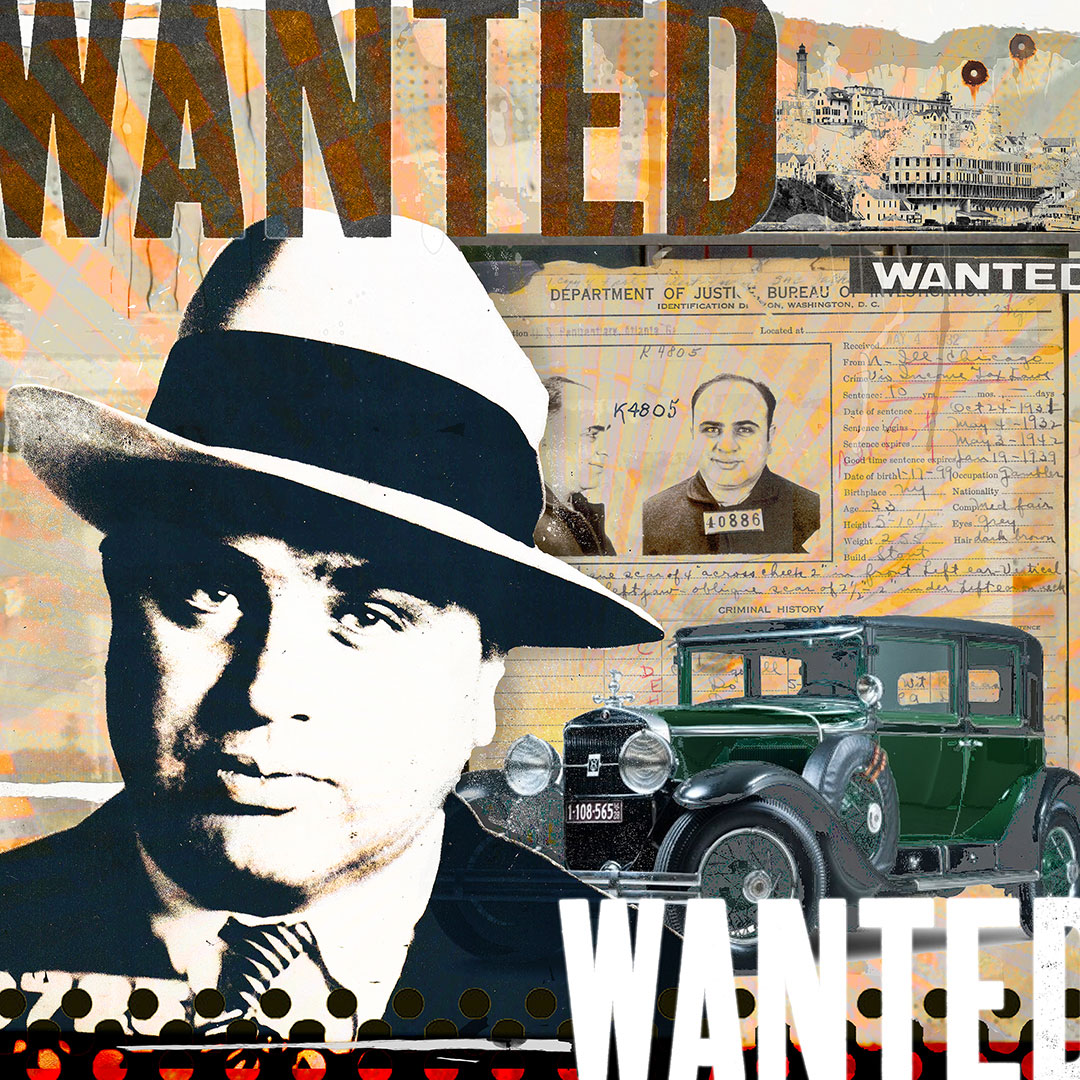 AL CAPONE
Mixed-Media auf Leinwand
Mixed-Media on canvas
6 Expl. 1 AP, indiv. Farbe
6 pcs. 1 AP, vari. colors
Druck auf Alu Dibond
Print on aluminium
2 Expl. 1 AP
2 pcs. 1 AP
100 x 100 cm
MASHINE GUN KELLY
Mixed-Media auf Leinwand
Mixed-Media on canvas
6 Expl. 1 AP, indiv. Farbe
6 pcs. 1 AP, vari. colors
Druck auf Alu Dibond
Print on aluminium
2 Expl. 1 AP
2 pcs. 1 AP
100 x 100 cm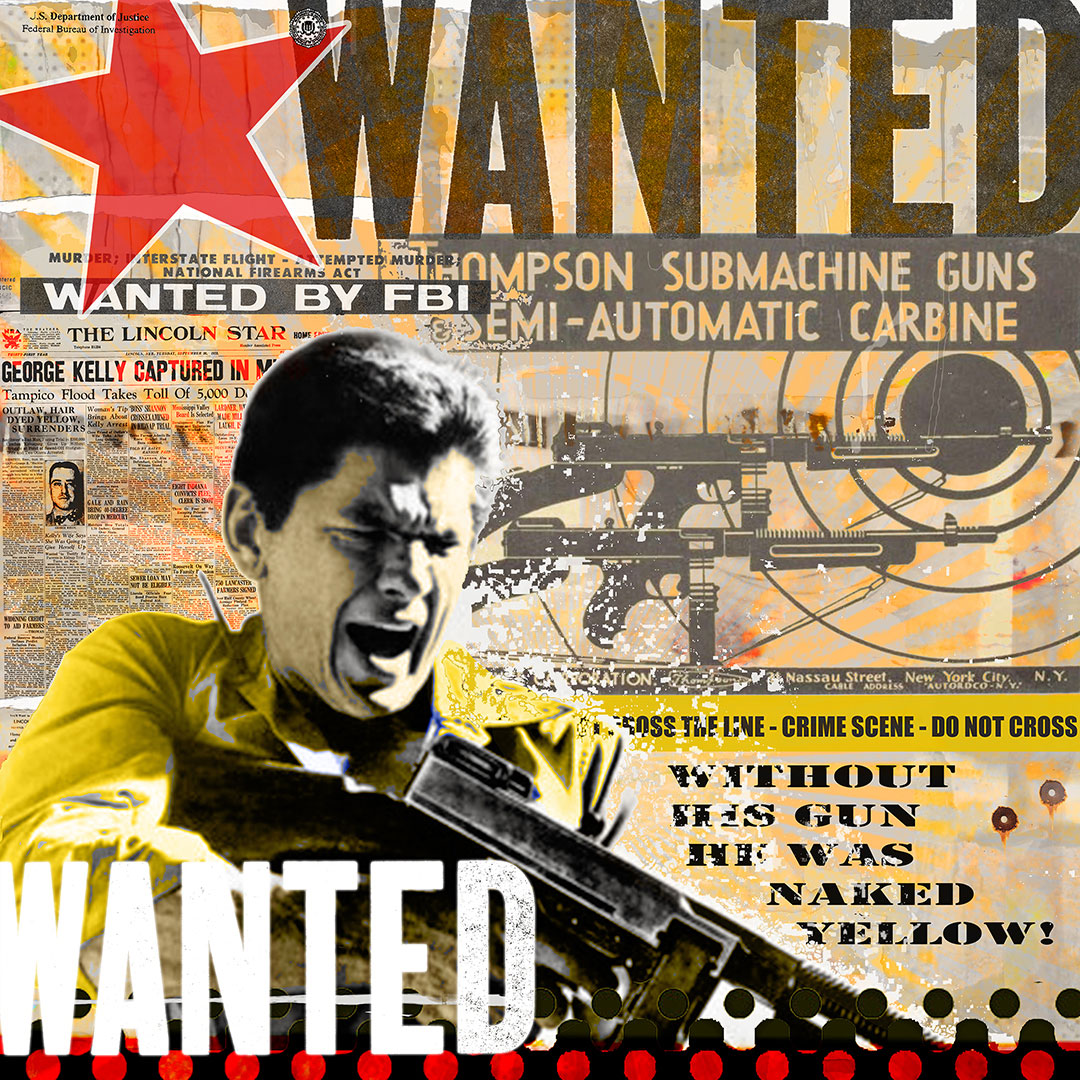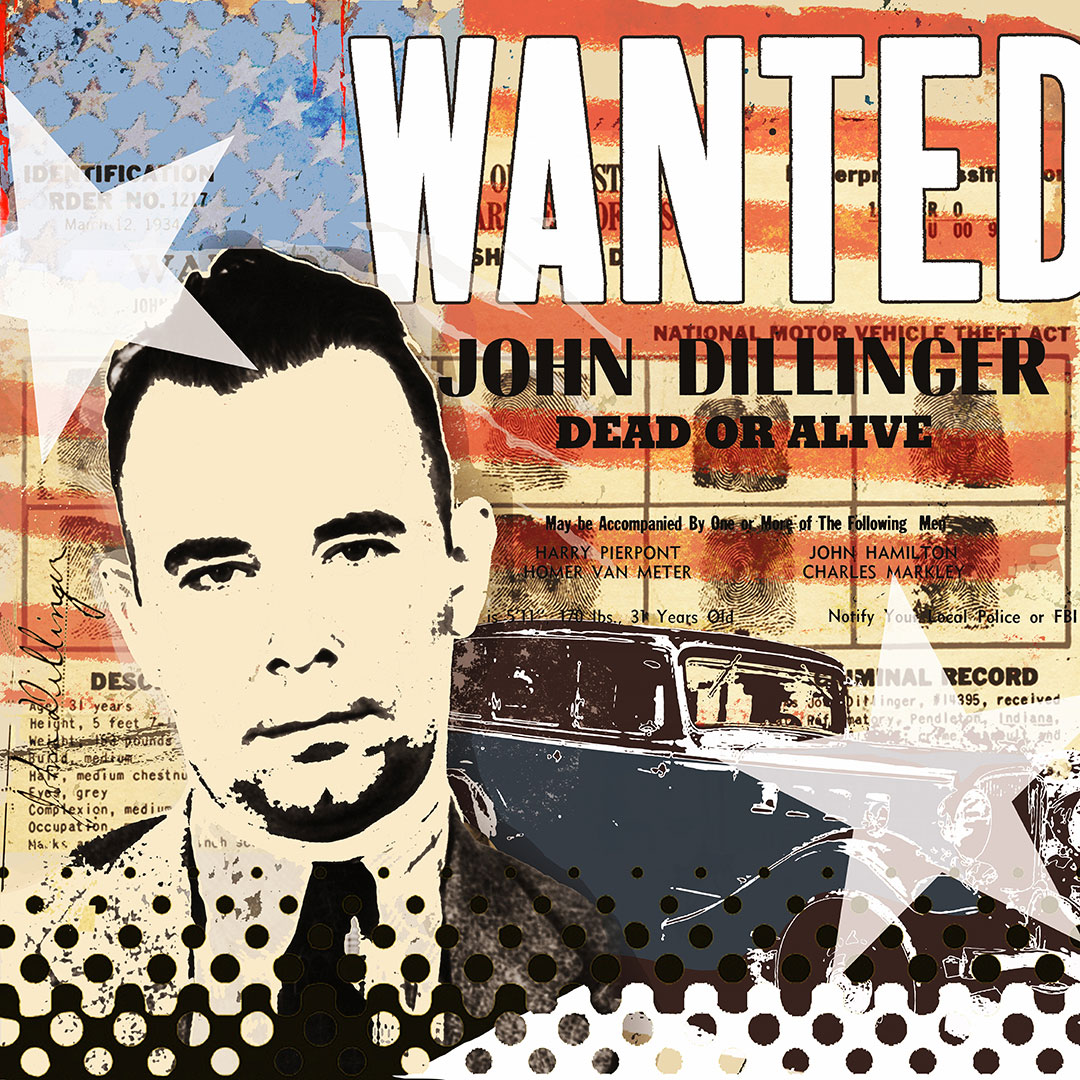 JOHN DILLINGER
Mixed-Media auf Leinwand
Mixed-Media on canvas
6 Expl. 1 AP, indiv. Farben
6 pcs. 1 AP, vari. colors
100 x 100 cm
MA & FRED BARKER VOL. I
Mixed-Media auf Leinwand
Mixed-Media on canvas
6 Expl. 1 AP, indiv. Farben
6 pcs. 1 AP, vari. colors
100 x 100 cm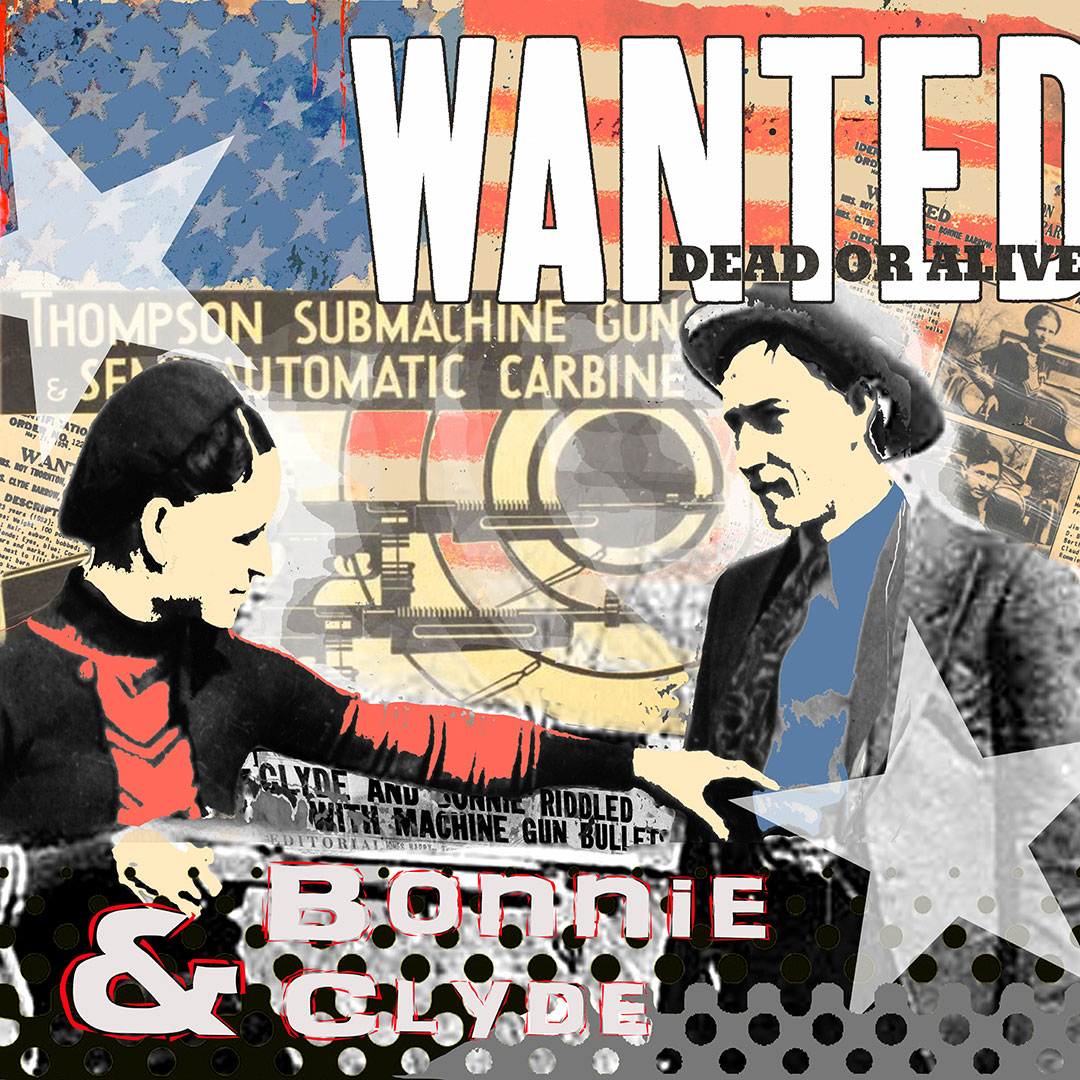 BONNIE & CLYDE
Mixed-Media auf Leinwand
Mixed-Media on canvas
6 Expl. 1 AP, indiv. Farben
6 pcs. 1 AP, vari. colors
100 x 100 cm
MA & FRED BARKER VOL. II
Mixed-Media auf Leinwand
Mixed-Media on canvas
6 Expl. 1 AP, indiv. Farben
6 pcs. 1 AP, vari. colors
100 x 100 cm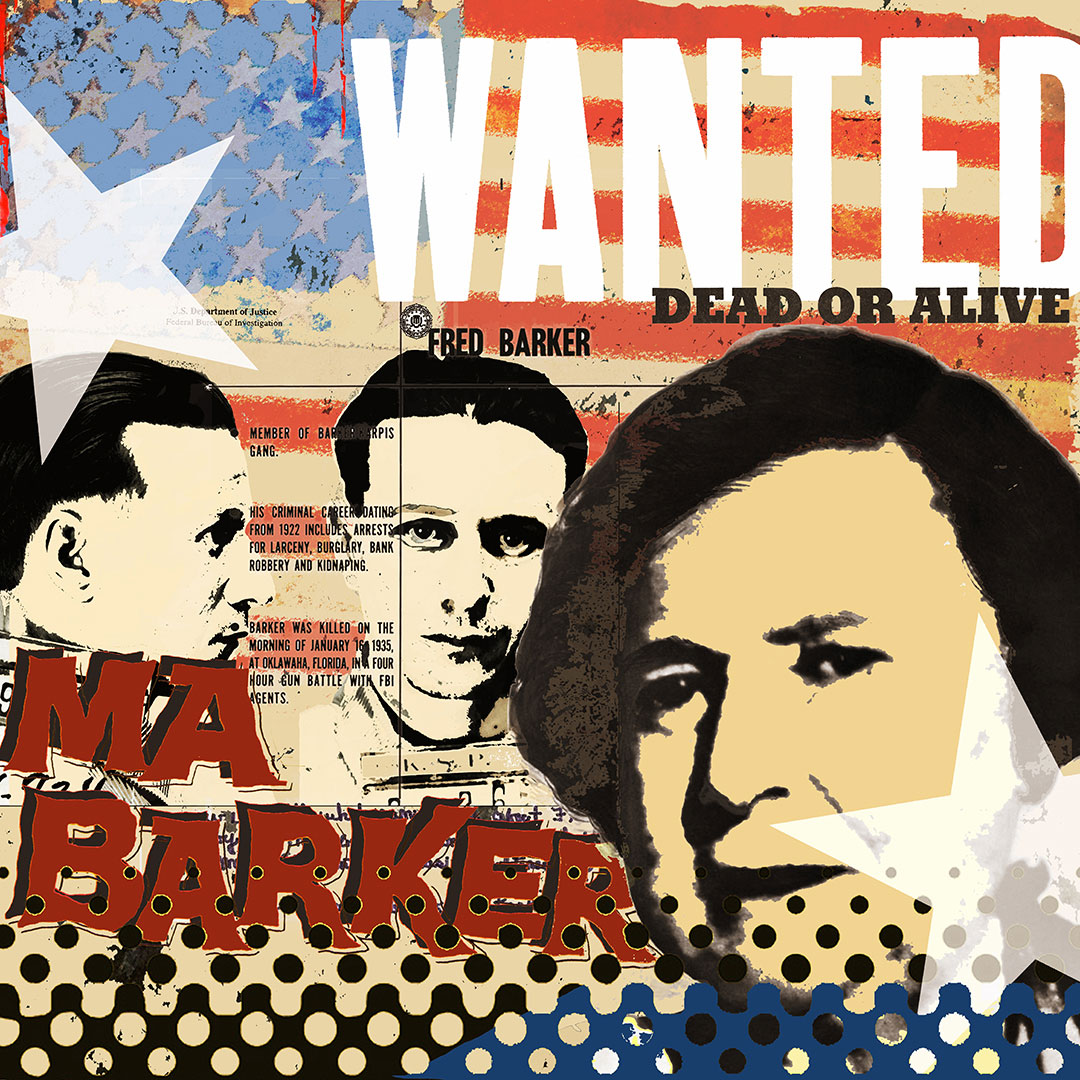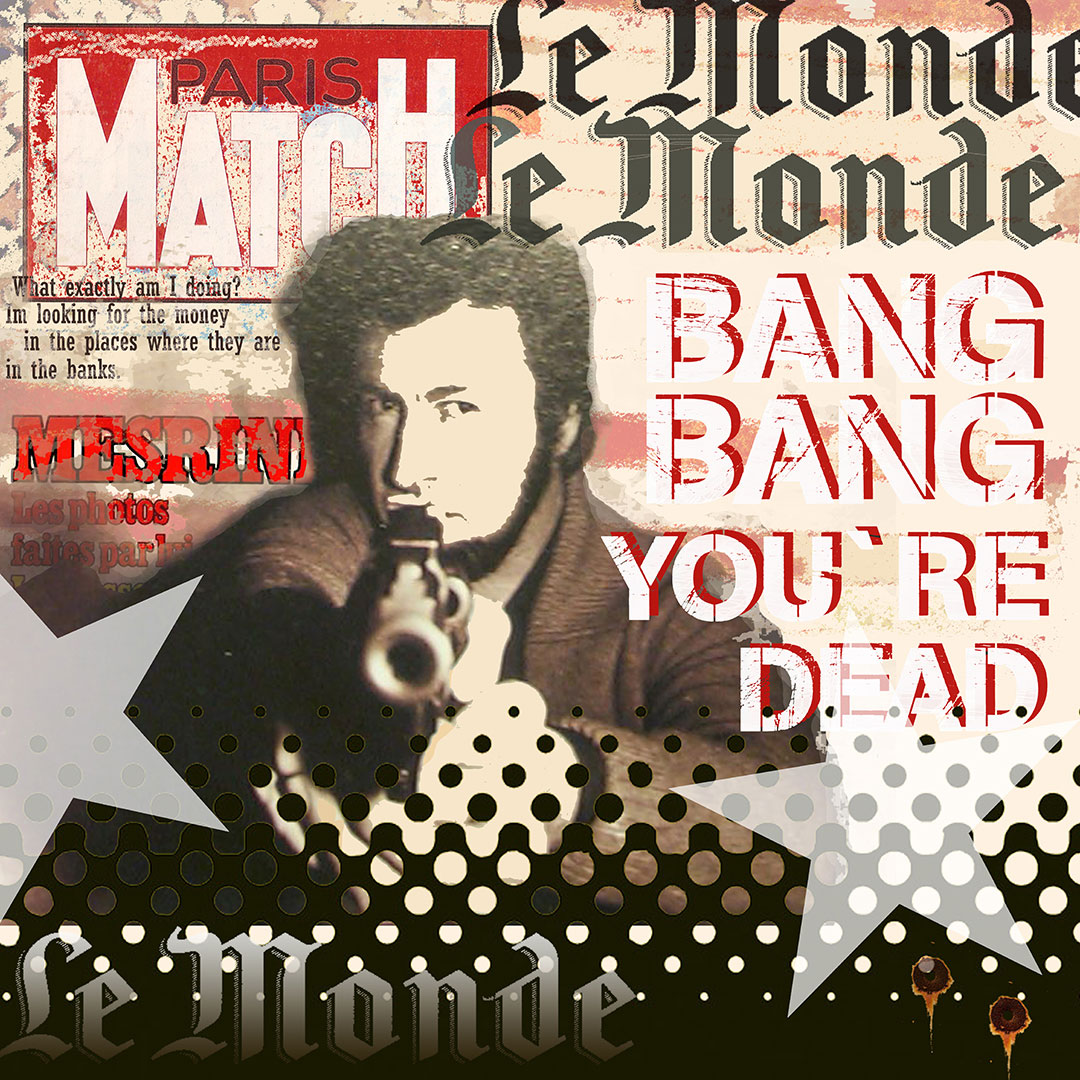 JAQUES MESRINE
Mixed-Media auf Leinwand
Mixed-Media on canvas
6 Expl. 1 AP, indiv. Farben
6 pcs. 1 AP, vari. colors
100 x 100 cm
L´ENNEMI PUBLIC
Mixed-Media auf Leinwand
Mixed-Media on canvas
1 Expl. 1 AP, indiv. Farben
1 pcs. 1 AP, vari. colors
100 x 100 cm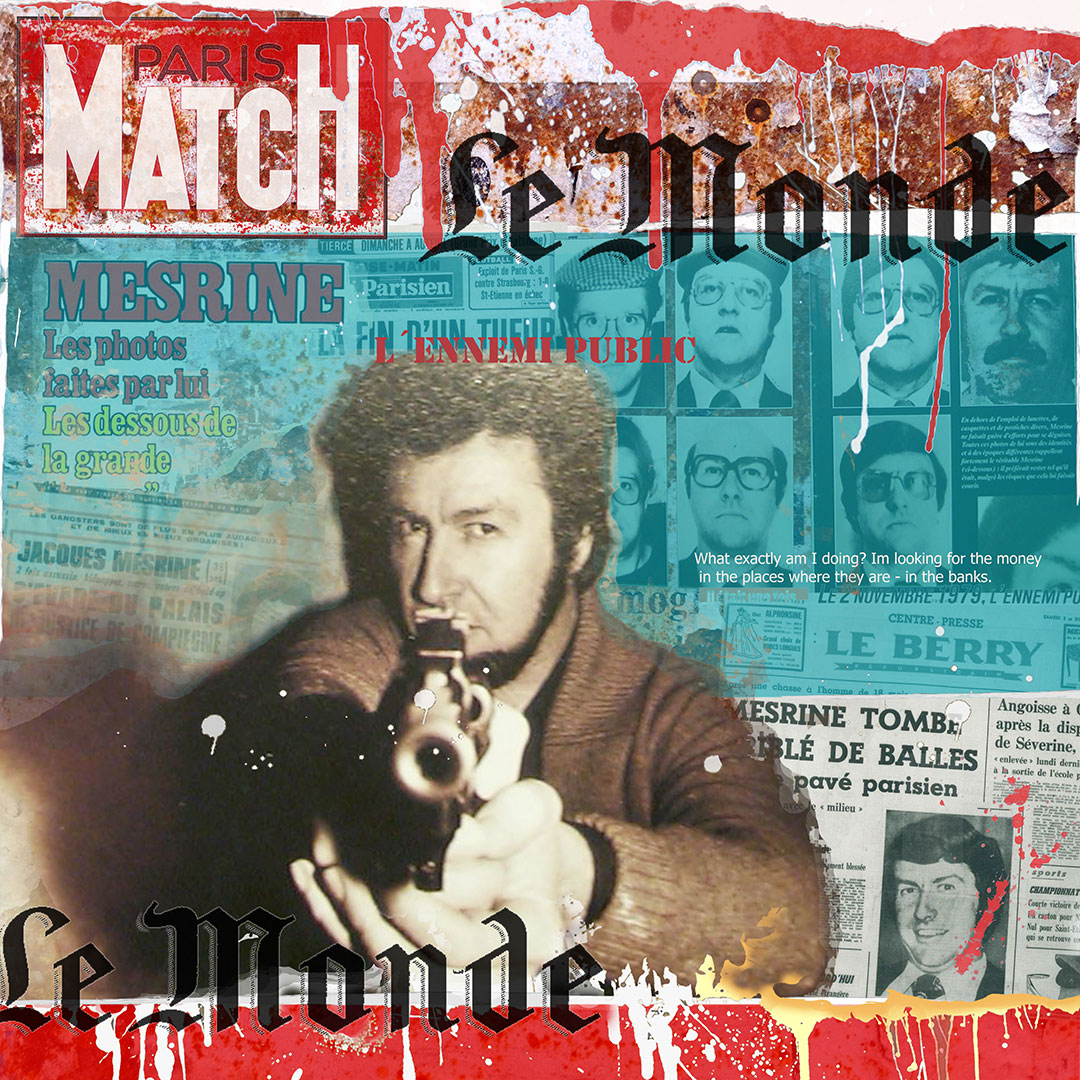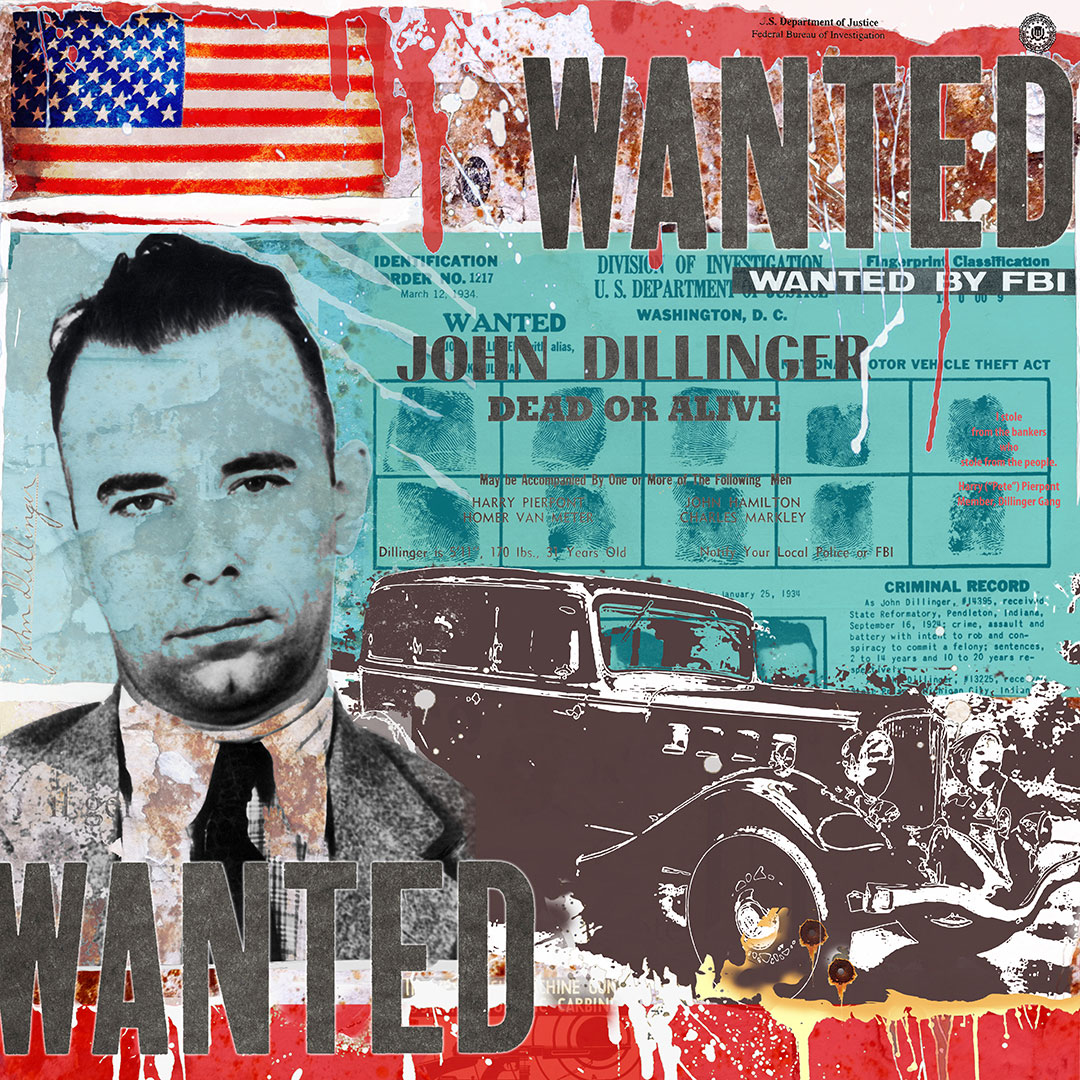 JOHN DILLINGER
Mixed-Media auf Leinwand
Mixed-Media on canvas
1 Expl. 1 AP, indiv. Farben
1 pcs. 1 AP, vari. colors
100 x 100 cm
WANTED – BONNIE & CLYDE VOL. II
Mixed-Media auf Leinwand
Mixed-Media on canvas
1 Expl. 1 AP, indiv. Farben
1 pcs. 1 AP, vari. colors
100 x 100 cm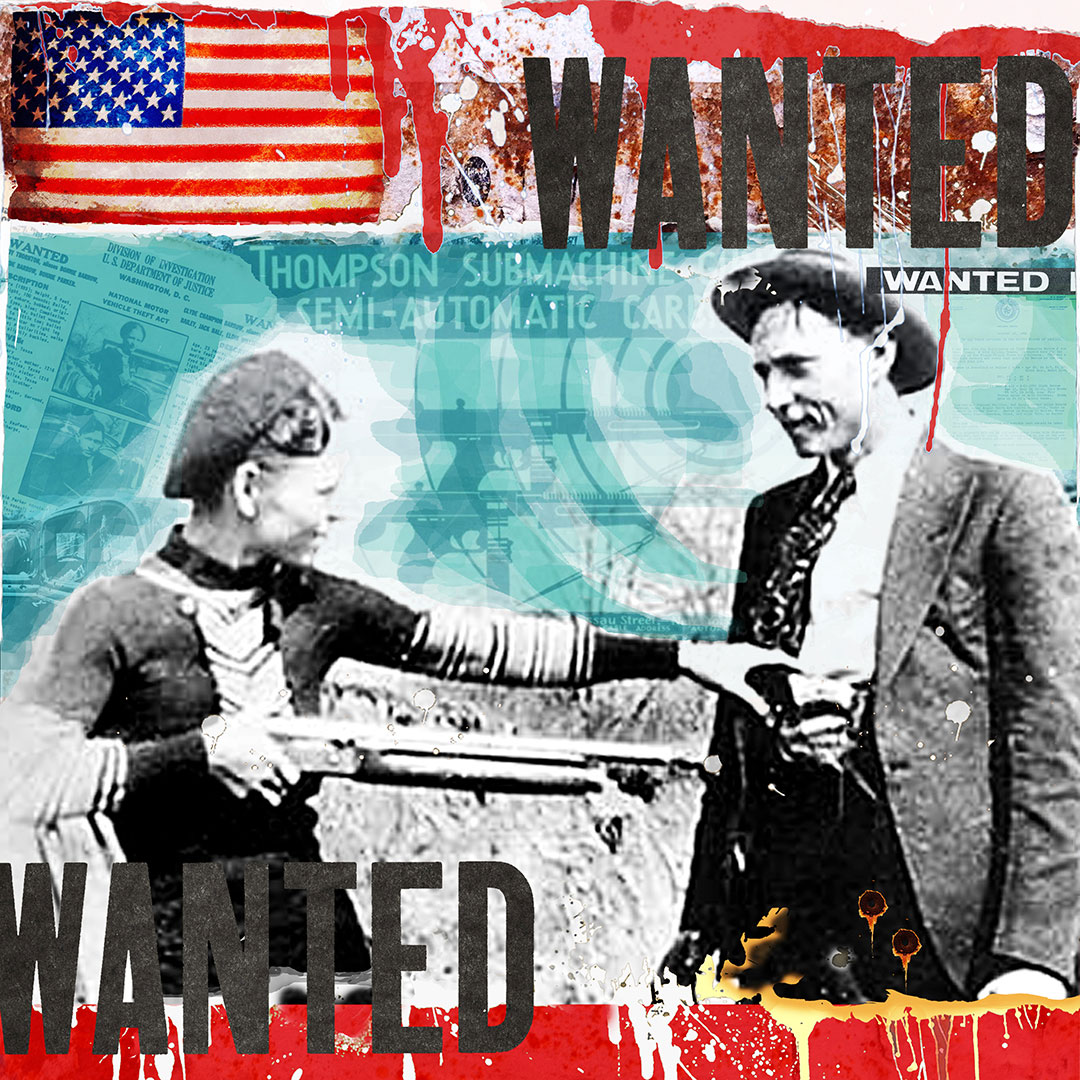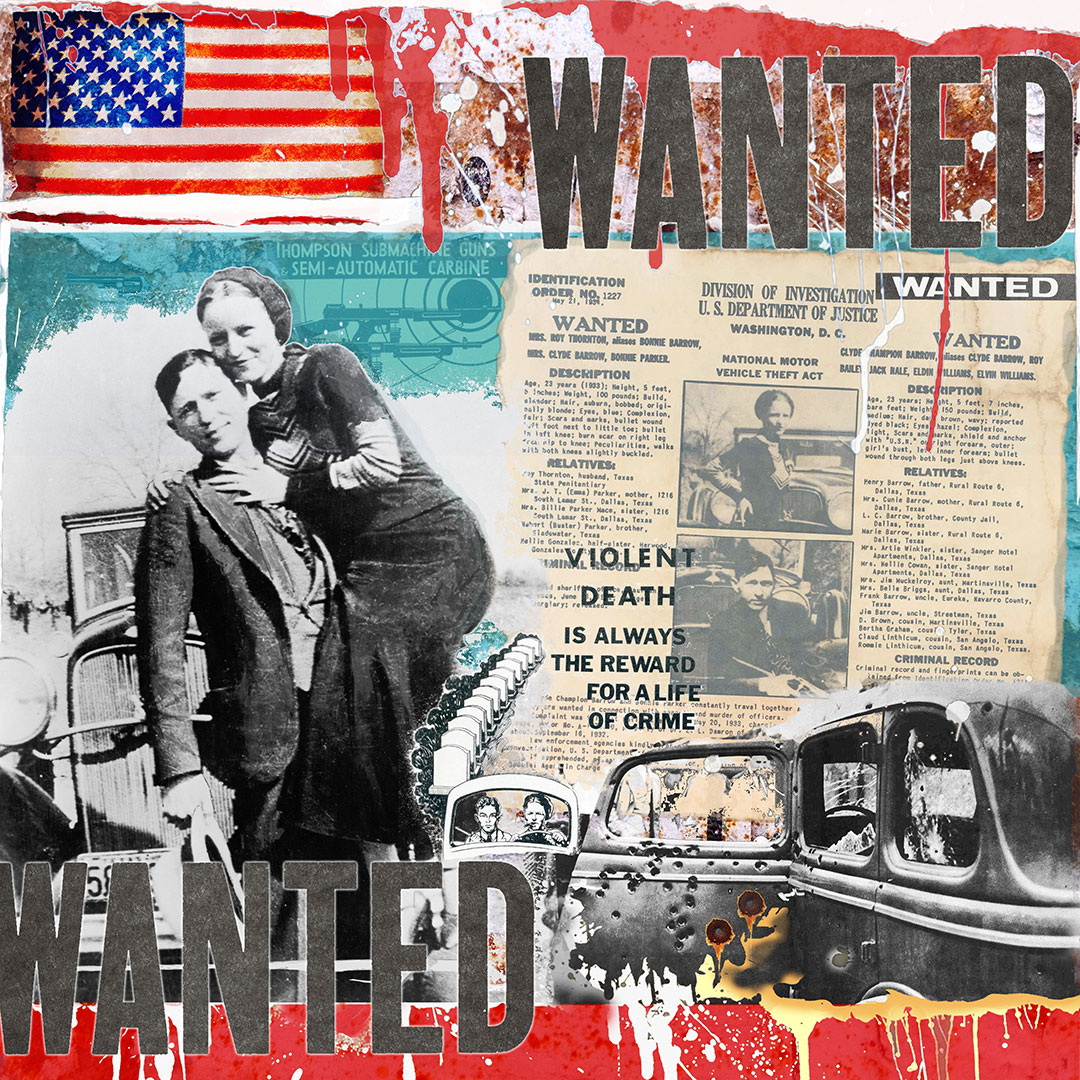 WANTED – BONNIE & CLYDE VOL. I
Mixed-Media auf Leinwand
Mixed-Media on canvas
1 Expl. 1 AP, indiv. Farben
1 pcs. 1 AP, vari. colors
100 x 100 cm