Racing Legends
Motorsport und Rennfahrer-Legenden in beeindruckenden Collagen
Motorsport and racing legends in impressive collages
Der Mythos Rennsport fasziniert Lohren schon seit seiner Kindheit. Seine Serie "Racing Legends" ist eine Hommage an die Rennlegenden von einst. Sie zeigen Rennfahrer-Ikonen wie Jochen Mass, Jacky Ickx, Derek Bell oder Jochen Rindt. Sie erinnern an die bewegende Geschichte des legendären 24-Stunden-Rennens von Le Mans oder an die historischen Rennwagen. In seinem typischen Pop Art-Stil setzt Lohren die Rennfahrer-Legenden und die Fahrzeuge in Szene.
Burkhard Lohren konnte den Rennfahrer Jochen Mass für seine "Star-Edition Jochen Mass" begeistern. Die Bilder zeigen Rennfahrzeuge, die Jochen Mass in seiner bewegenden Karriere steuerte. Das Renn-Idol hat drei Kunstwerke des Künstlers signiert und so zu einzigartigen Unikaten gemacht.
The myth of racing has fascinated Lohren ever since his childhood. His series "Racing Legends" pays tribute to the legends of the past. They show racing icons like Jochen Mass, Jacky Ickx, Derek Bell or Jochen Rindt. They remind us of the moving history of the legendary 24 Hours of Le Mans or the historic racing cars. In his typical Pop Art style Lohren stages the racing legends and their vehicles.
Burkhard Lohren was able to inspire racing driver Jochen Mass for his "Star Edition Jochen Mass". The pictures show race cars that Jochen Mass steered in his moving career. The racing idol has signed three works of art by Lohren and turned them into unique pieces this way.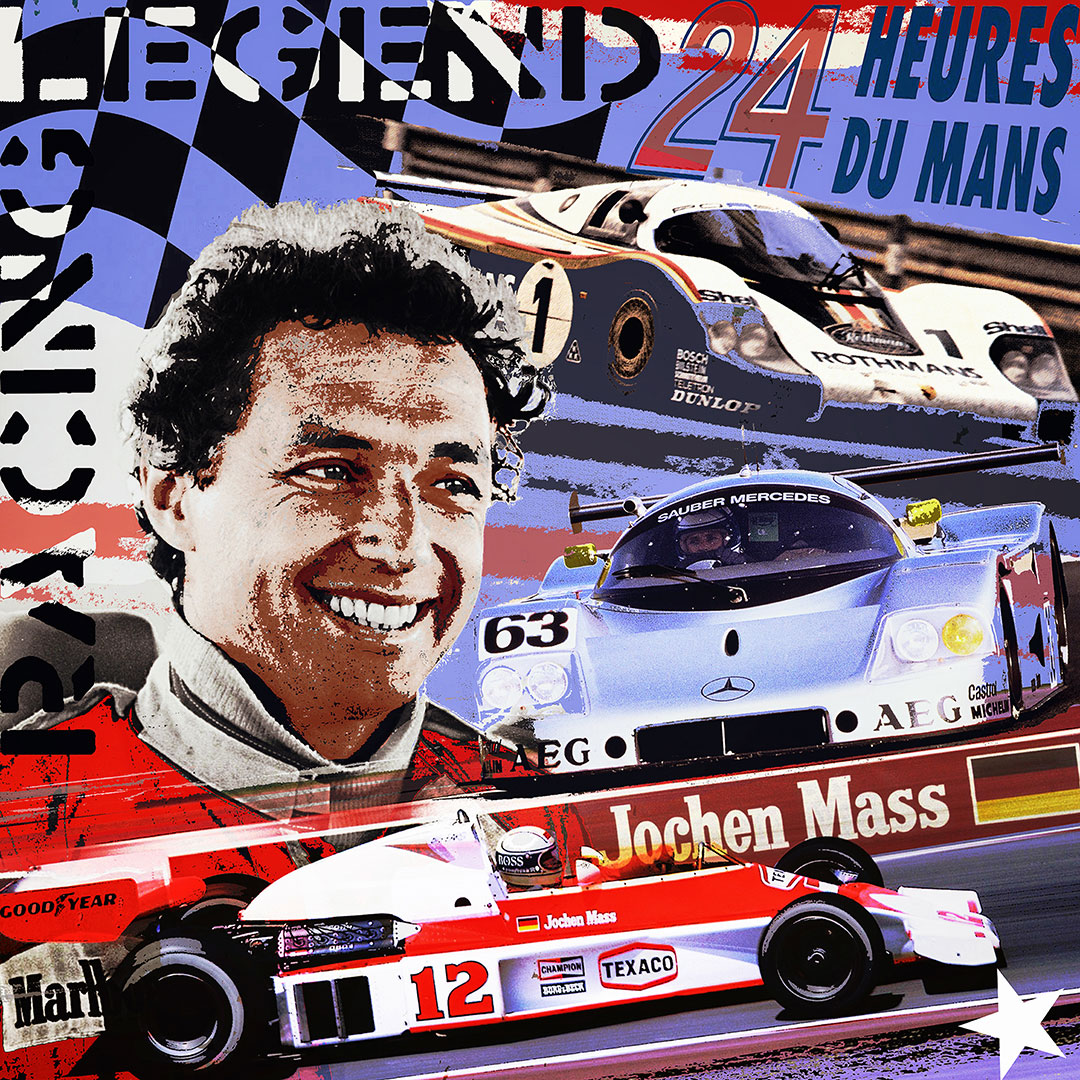 JOCHEN MASS
Mixed-Media auf Leinwand
Mixed-Media on canvas
6 Expl. 1 AP, indiv. Farben – 70 x 70 cm
6 pcs. 1 AP, vari. colors – 70 x 70 cm
6 Expl. 1 AP, indiv. Farben – 100 x 100 cm
6 pcs. 1 AP, vari. colors – 100 x 100 cm
Druck auf Alu Dibond
Print on aluminium
2 Expl./pcs. 1 AP – 100 x 100 cm
PORSCHE LE MANS
Jochen Mass Edition 2018
Druck auf Holzboard
Print on wooden panel
40 x 40 x 5 cm
UNIKAT / UNIQUE
Mit Autogramm von Jochen Mass
Autographed by Jochen Mass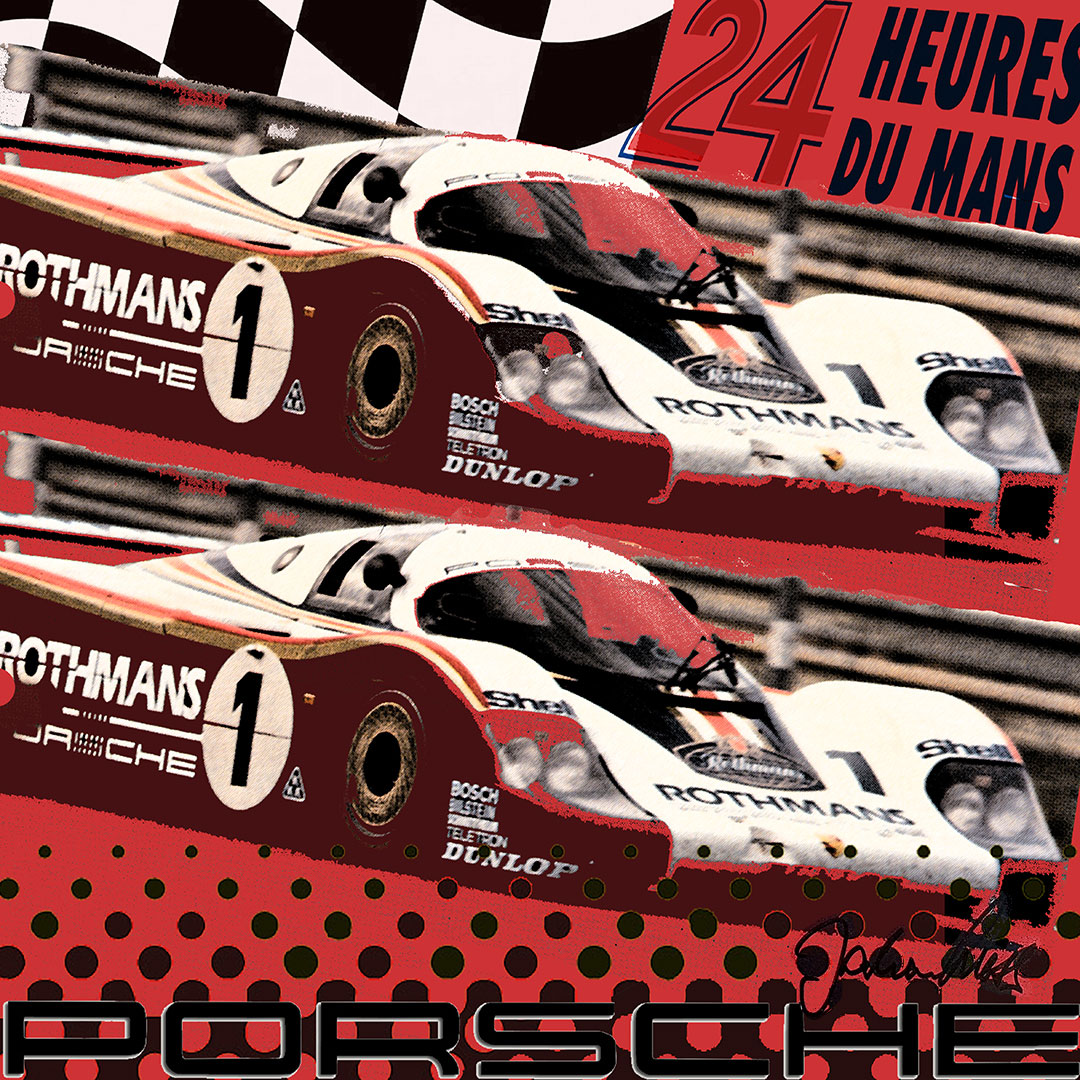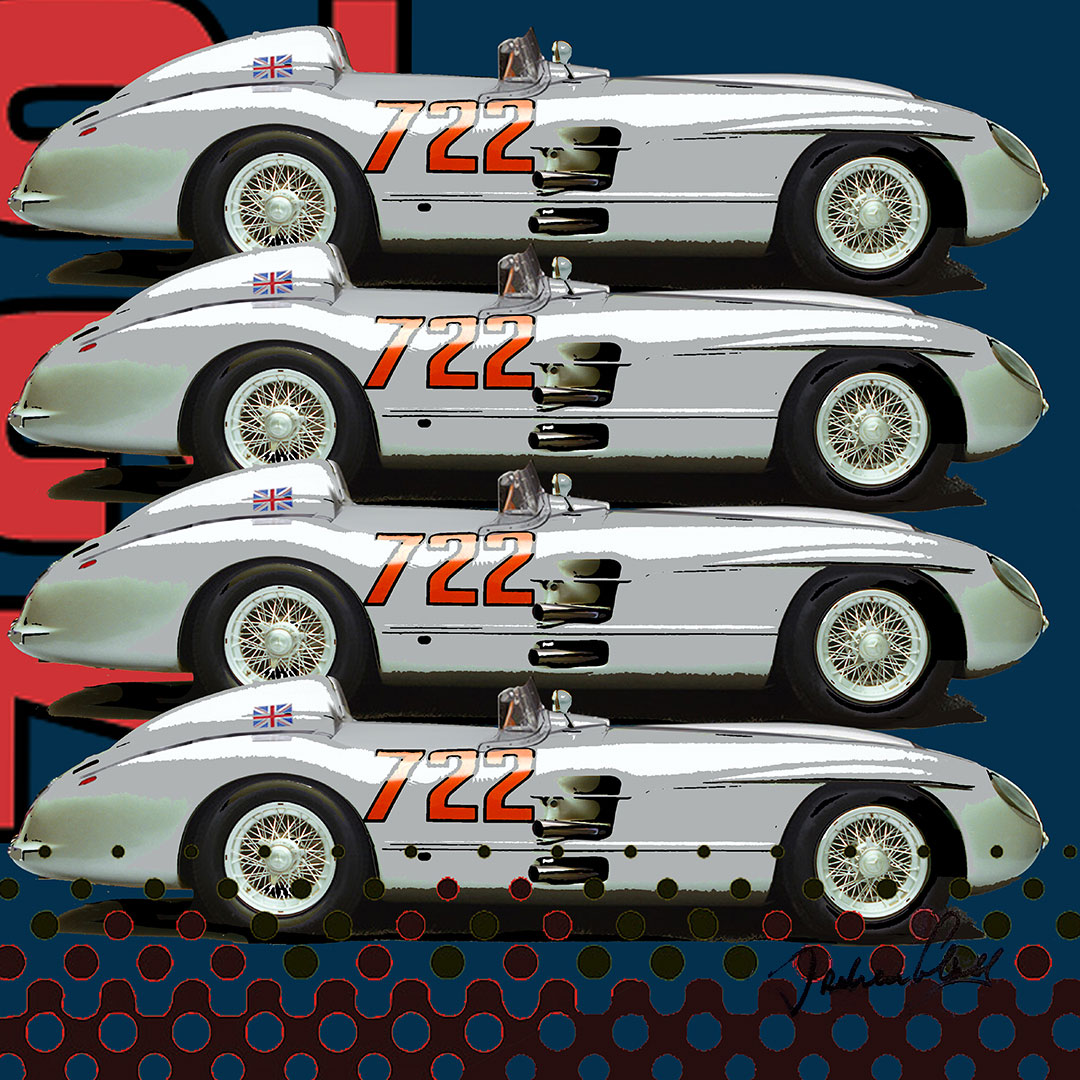 MERCEDES MILLE MIGLIA
Jochen Mass Edition 2018
Druck auf Holzboard
Print on wooden panel
40 x 40 x 5 cm
UNIKAT / UNIQUE
Mit Autogramm von Jochen Mass
Autographed by Jochen Mass
MC LAREN FORMEL 1
Jochen Mass Edition 2018
Druck auf Holzboard
Print on wooden panel
40 x 40 x 5 cm
UNIKAT / UNIQUE
Mit Autogramm von Jochen Mass
Autographed by Jochen Mass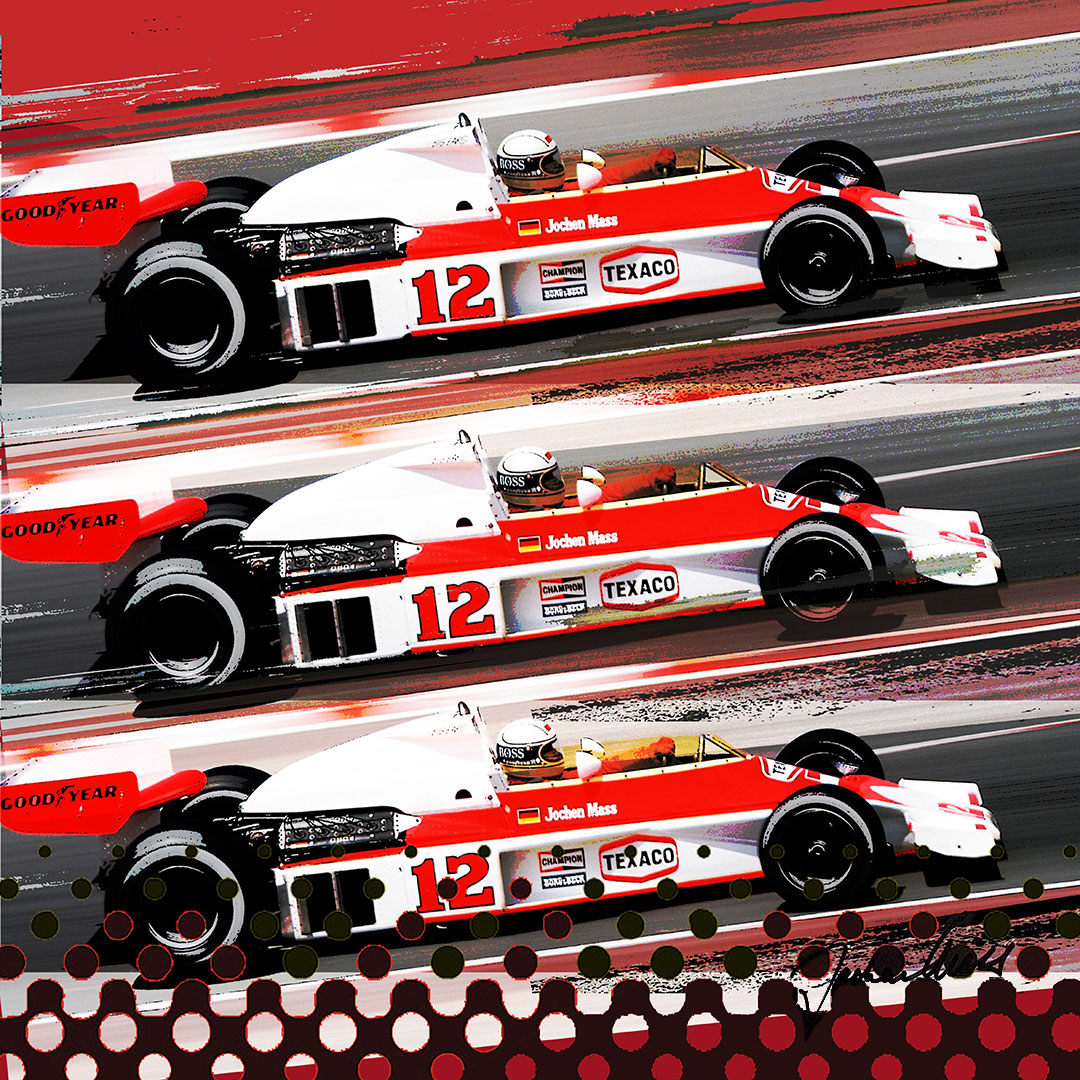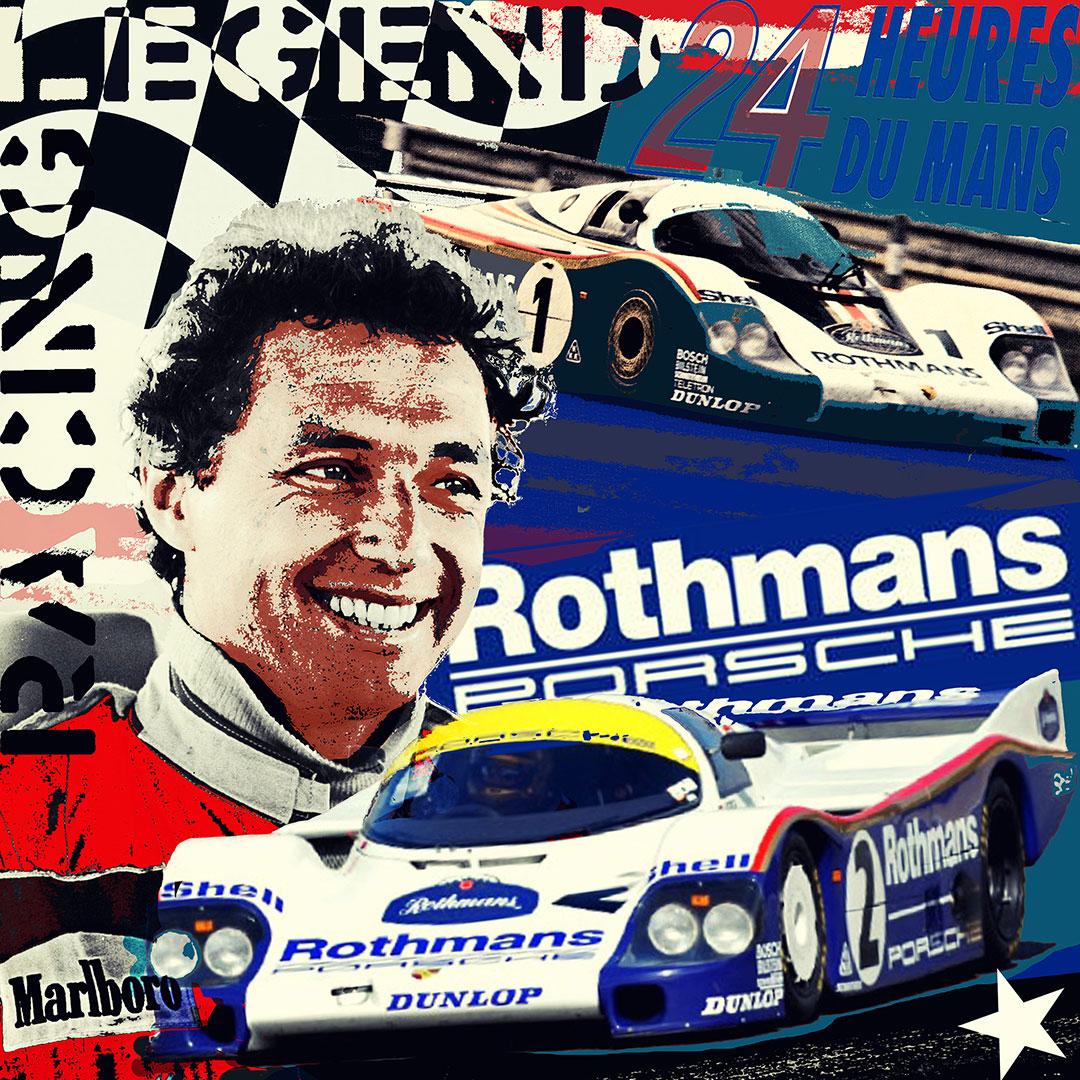 ROTHMANS PORSCHE – JOCHEN MASS
Mixed-Media auf Leinwand
Mixed-Media on canvas
6 Expl. 1 AP, indiv. Farben – 20 x 20 cm
6 pcs. 1 AP, vari. colors – 20 x 20 cm
6 Expl. 1 AP, indiv. Farben – 100 x 100 cm
6 pcs. 1 AP, vari. colors – 100 x 100 cm
Druck auf Alu Dibond
Print on aluminium
2 Expl./pcs. 1 AP – 100 x 100 cm
RACING LEGENDS – DEREK BELL
Mixed-Media auf Leinwand
Mixed-Media on canvas
6 Expl. 1 AP, indiv. Farben
6 pcs. 1 AP, vari. colors
Druck auf Alu Dibond
Print on aluminium
2 Expl./pcs. 1 AP
100 x 100 cm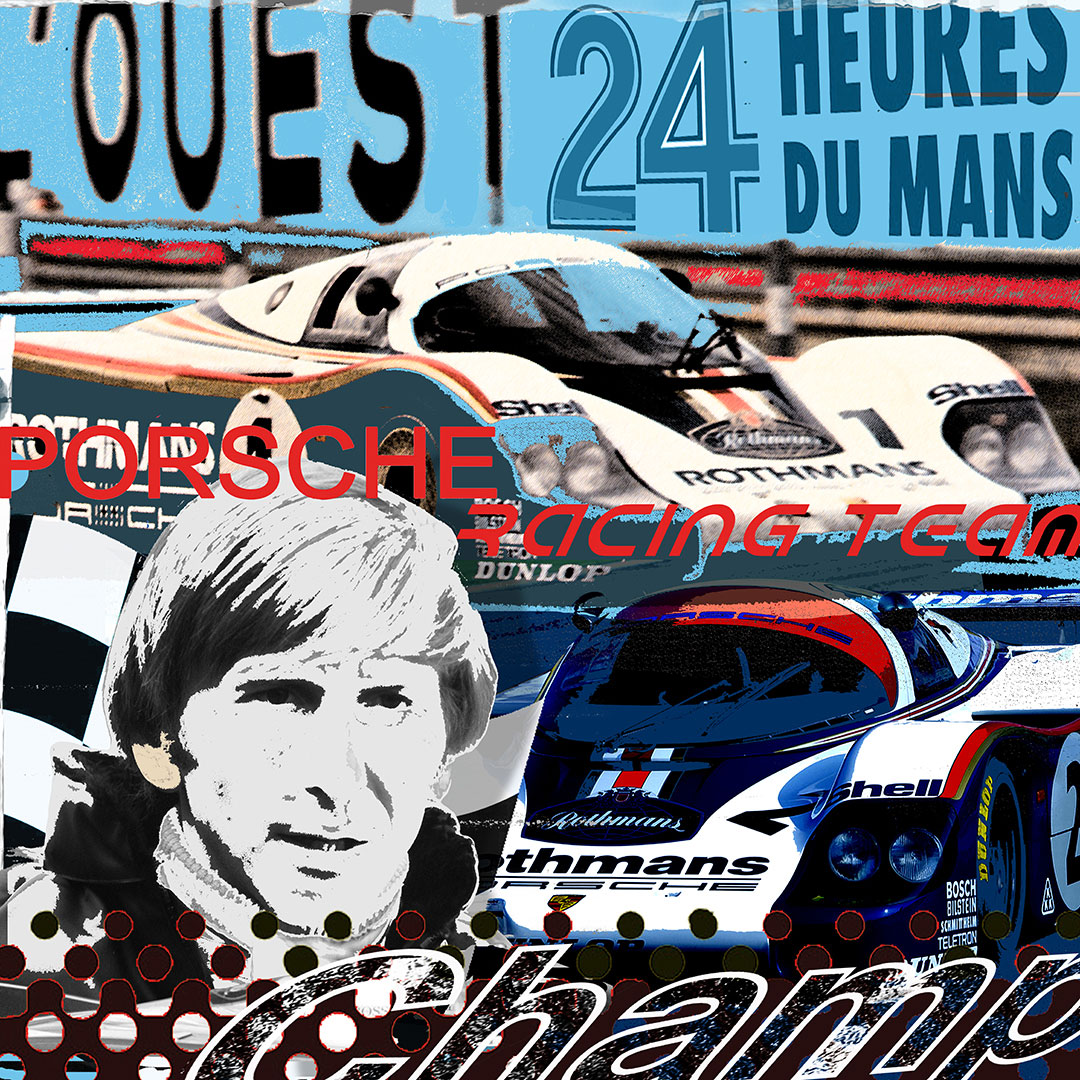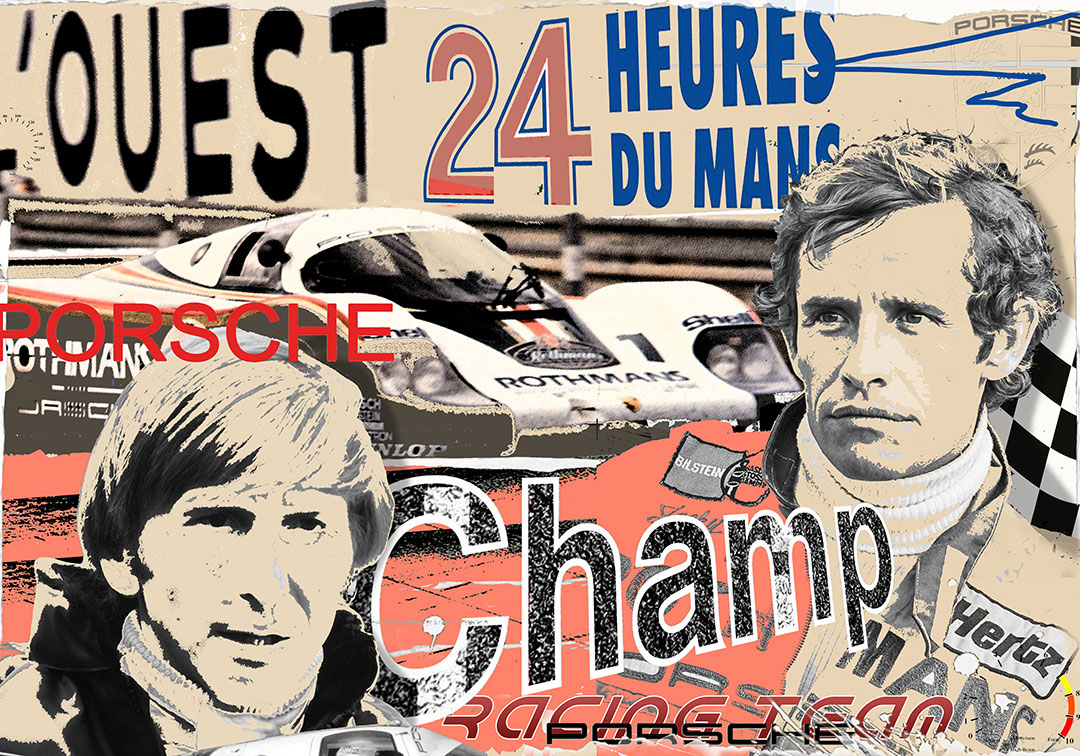 JACKY ICKS AND DEREK BELL – RACING LEGENDS
Mixed-Media auf Leinwand
Mixed-Media on canvas
6 Expl. 1 AP, indiv. Farben
6 pcs. 1 AP, vari. colors
Druck auf Alu Dibond
Print on aluminium
2 Expl./pcs. 1 AP
70 x 100 cm
PORSCHE RACING – JACKY ICKS AND DEREK BELL
Mixed-Media auf Leinwand
Mixed-Media on canvas
6 Expl. 1 AP, indiv. Farben
6 pcs. 1 AP, vari. colors
Druck auf Alu Dibond
Print on aluminium
2 Expl./pcs. 1 AP
100 x 100 cm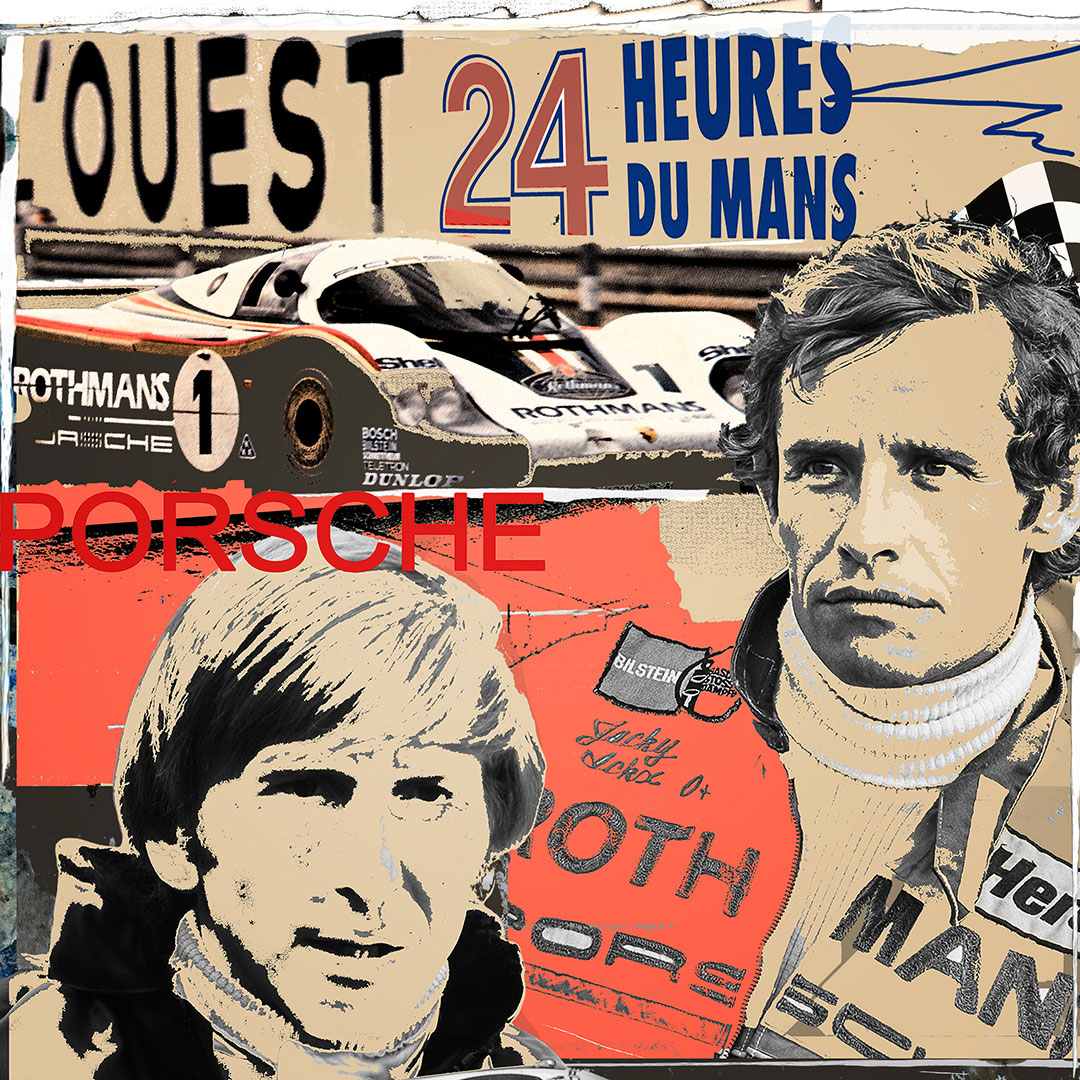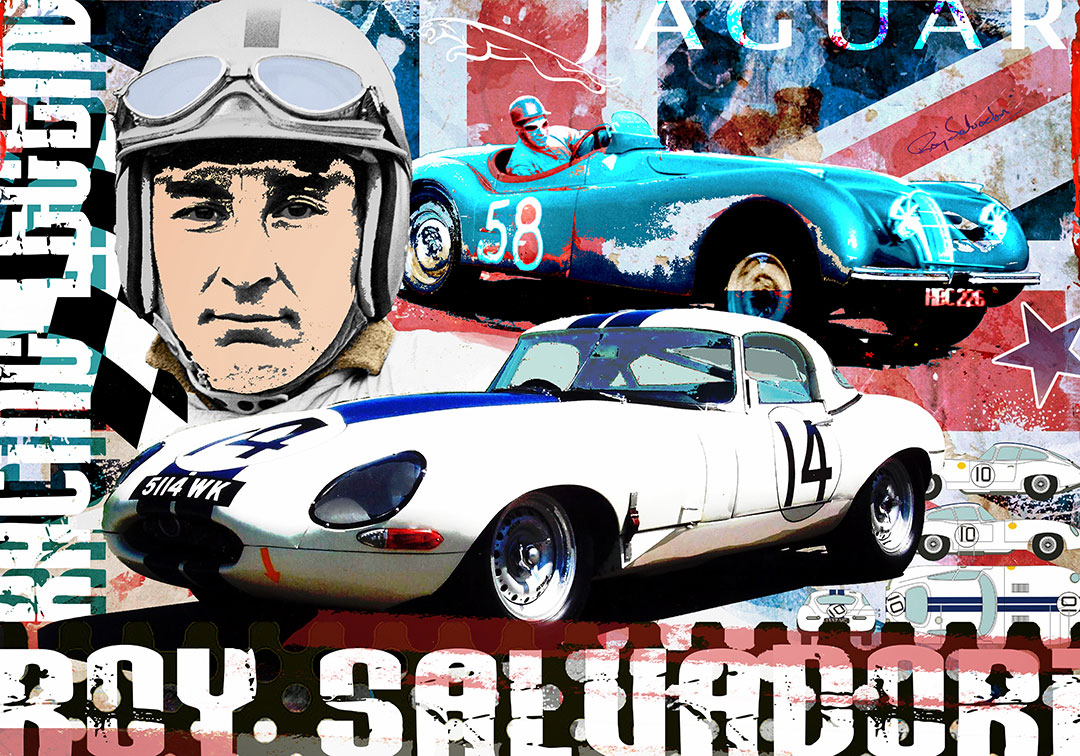 ROY SALVADORI
Mixed-Media auf Leinwand
Mixed-Media on canvas
6 Expl. 1 AP, indiv. Farben
6 pcs. 1 AP, vari. colors
Druck auf Alu Dibond
Print on aluminium
2 Expl./pcs. 1 AP
70 x 100 cm
JOCHEN RINDT – CHAMPION
Mixed-Media auf Leinwand
Mixed-Media on canvas
6 Expl. 1 AP, indiv. Farben
6 pcs. 1 AP, vari. colors
Druck auf Alu Dibond
Print on aluminium
2 Expl./pcs. 1 AP
70 x 100 cm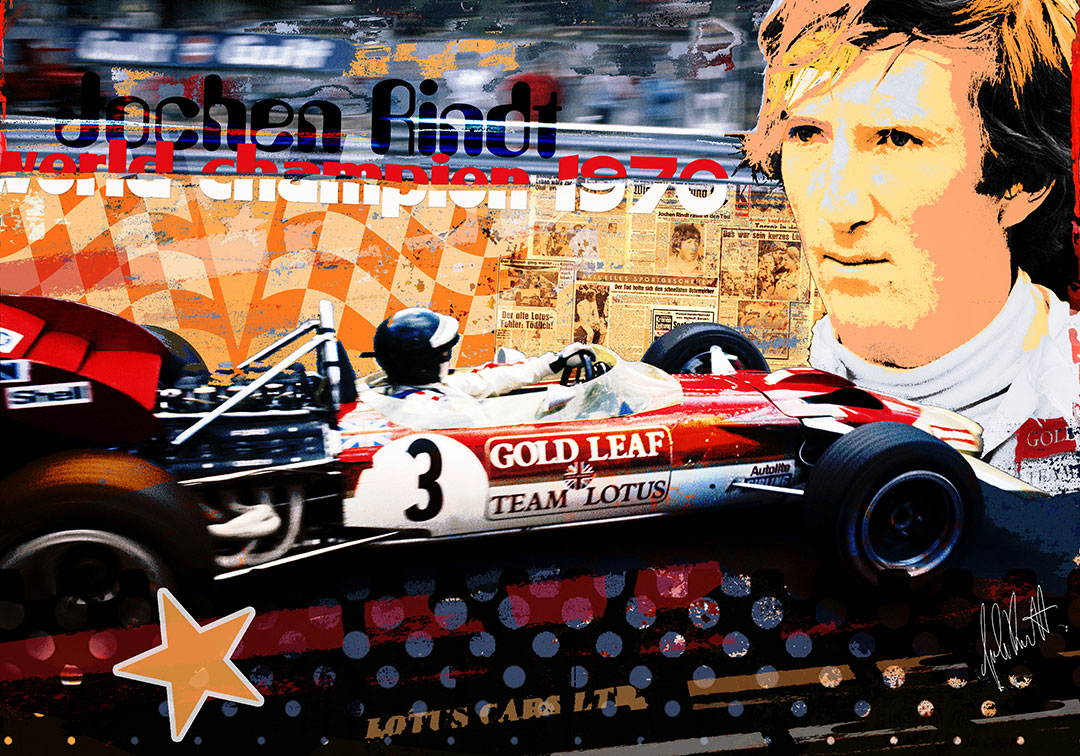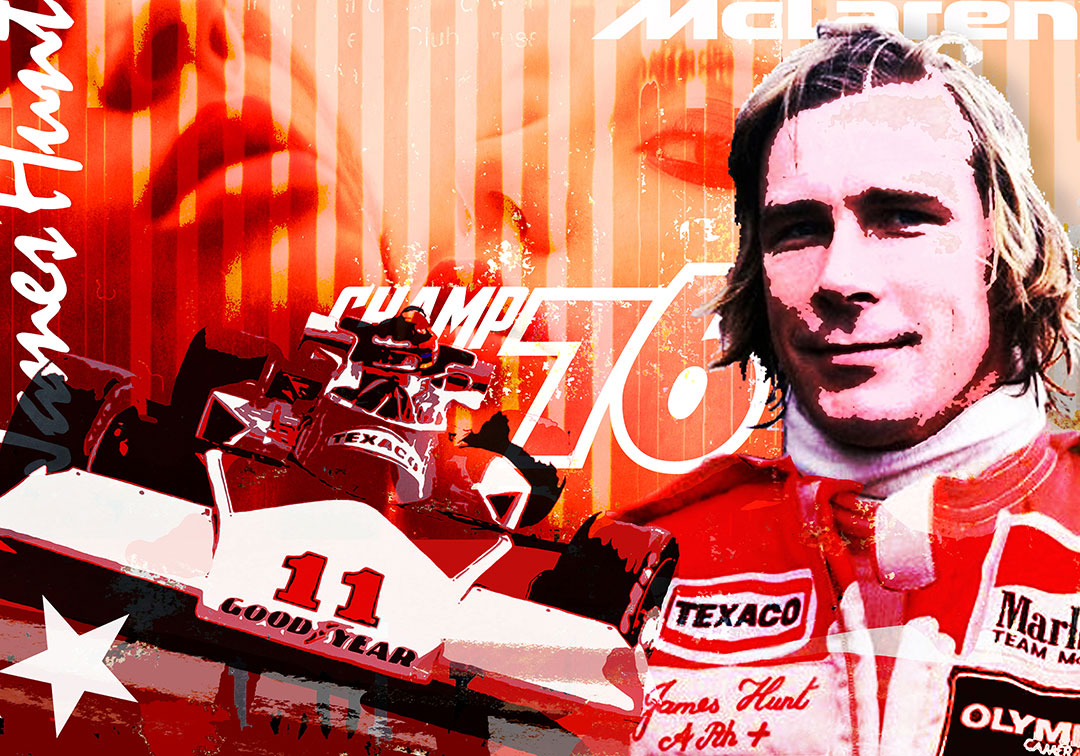 JAMES HUNT – CHAMP 76
Mixed-Media auf Leinwand
Mixed-Media on canvas
6 Expl. 1 AP, indiv. Farben
6 pcs. 1 AP, vari. colors
Druck auf Alu Dibond
Print on aluminium
2 Expl./pcs. 1 AP
70 x 100 cm
CHAMP
Mixed-Media auf Leinwand
Mixed-Media on canvas
6 Expl. 1 AP, indiv. Farben
6 pcs. 1 AP, vari. colors
Druck auf Alu Dibond
Print on aluminium
2 Expl./pcs. 1 AP
70 x 100 cm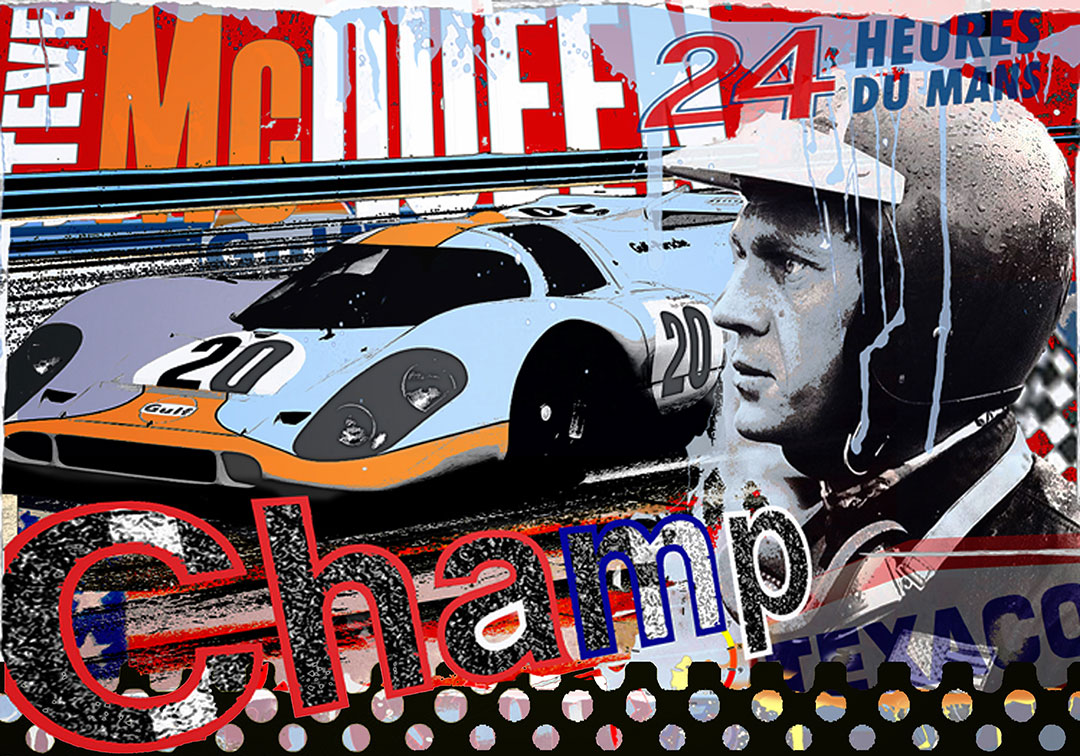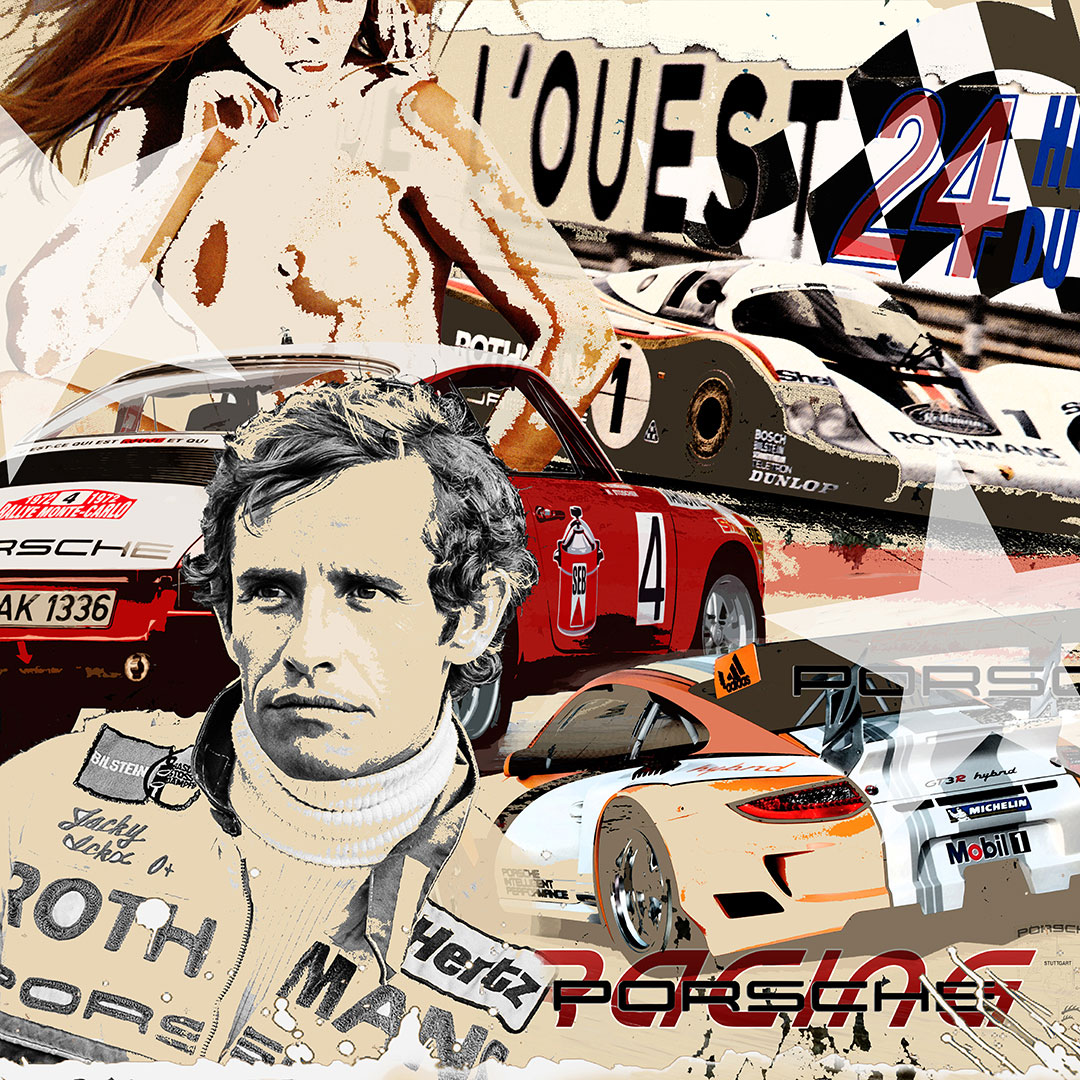 PORSCHE RACING
Mixed-Media auf Leinwand
Mixed-Media on canvas
6 Expl. 1 AP, indiv. Farben
6 pcs. 1 AP, vari. colors
Druck auf Alu Dibond
Print on aluminium
2 Expl./pcs. 1 AP
100 x 100 cm
100 YEARS OF MASERATI
Mixed-Media auf Leinwand
Mixed-Media on canvas
6 Expl. 1 AP, indiv. Farben
6 pcs. 1 AP, vari. colors
Druck auf Alu Dibond
Print on aluminium
2 Expl./pcs. 1 AP
100 x 100 cm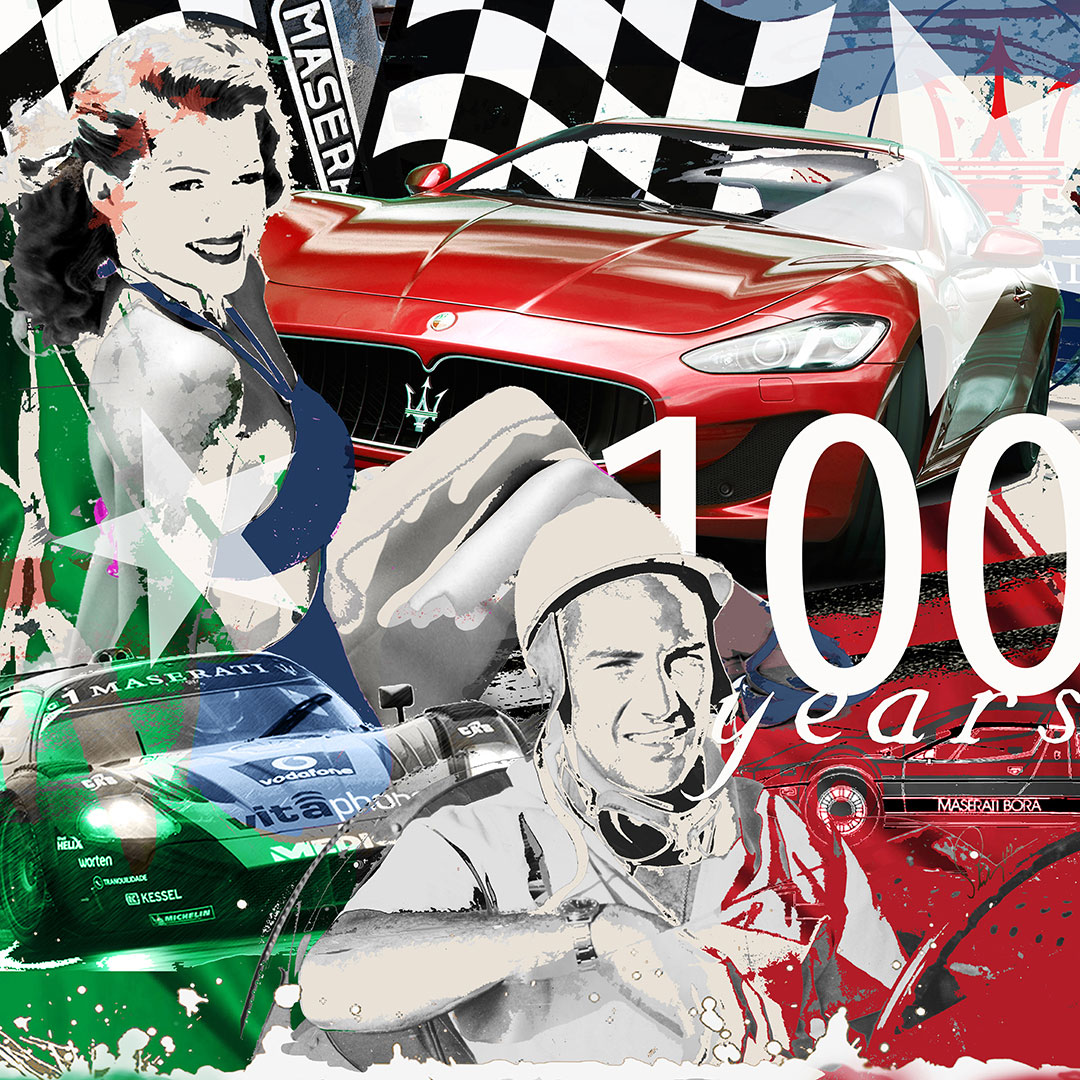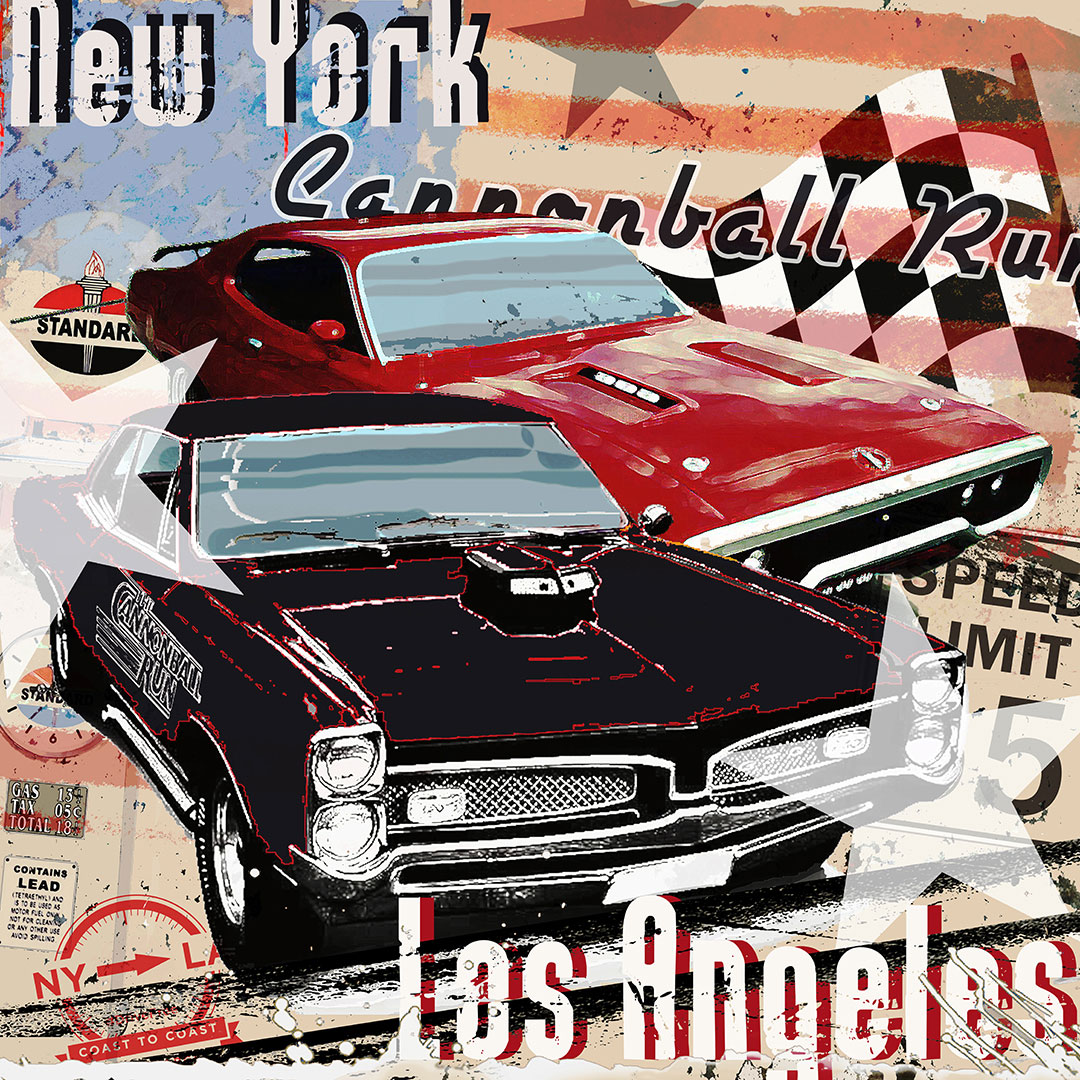 CANONBALL RUN VOL. 2
Mixed-Media auf Leinwand
Mixed-Media on canvas
6 Expl. 1 AP, indiv. Farben –70 x 70 cm
6 pcs. 1 AP, vari. colors – 70 x 70 cm
6 Expl. 1 AP, indiv. Farben –100 x 100 cm
6 pcs. 1 AP, vari. colors – 100 x 100 cm
Druck auf Alu Dibond
Print on aluminium
2 Expl./pcs. 1 AP – 70 x 70 cm
2 Expl./pcs. 1 AP – 100 x 100 cm
CANONBALL RUN VOL. 1
Mixed-Media auf Leinwand
Mixed-Media on canvas
6 Expl./pcs. 1 AP – 70 x 70 cm
6 Expl./pcs. 1 AP – 70 x 70 cm
6 Expl. 1 AP, indiv. Farben –100 x 100 cm
6 pcs. 1 AP, vari. colors – 100 x 100 cm
Druck auf Alu Dibond
Print on aluminium
2 Expl./pcs. 1 AP – 70 x 70 cm
2 Expl./pcs. 1 AP – 100 x 100 cm